Fast Lane Super Cars Mitsubishi Lancer Evolution VIII 1/32 scale
September 2007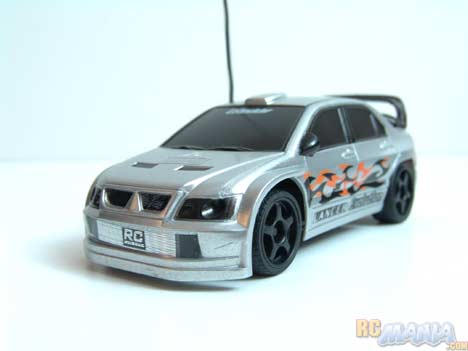 Street Price: $9.99 US
Manufacturer: Fast Lane RC
Mfgr's recommended min. age: 5+
Our recommended age range: 4-12
Primary use: Indoor
Top speed: 4.1mph
Radio: 49mhz
Includes:
Assembled car
Antenna tubes
Transmitter
Requires:
2 AA batteries for the transmitter
3AAA batteries for the car
Initial Impressions
Hey, this little thing looks cool. For something so inexpensive, it has good styling and detail. I especially like the wheels, and the real, soft rubber, treaded tires. Seems like a good value at first glance. The controller is also a perfect size for smaller hands, yet it's not so tiny that an adult can't use it comfortably. The direction buttons are well-designed and easy to push.
Preparing to Drive
There's not much to do here, just add batteries, put the antenna tubes on the car and controller, and it's time to race!
Testing
Yeah! This little thing has some scoot! At 4.1mph, it's as fast as the next bigger one Fast Lane makes that's more than twice the size. Heck, it's fast enough to get around your typical kitchen or garage really quickly, requiring fast reflexes to hit the turns! Because it's so small and a strictly street racing design, it's not going to drive on carpet or any sort of gravel, but driveways & concrete patios, linoleum floors, or smooth playground blacktop are perfect.
The car turns really well thanks to the good tires and fast steering response, and if you tap the reverse button going into a turn, you can make it spin out for super-fast 90 degree turns. Don't take my word for it, though. Check out the videos!
Video
(Click a video a second time to view it larger in a new window.)
Conclusion
Well, there you have it. What's not to like about this car? For the price, it's an amazing deal. The newer ones even come with a set of drifting tires, and have selectable radio channels so you can run up to 6 at a time. If you don't like the Mitsubishi Evo body, there are lots of other styles, from SUVs to classic muscle cars. I couldn't be happier with this purchase.