Rock Crawler Jr.
May 2011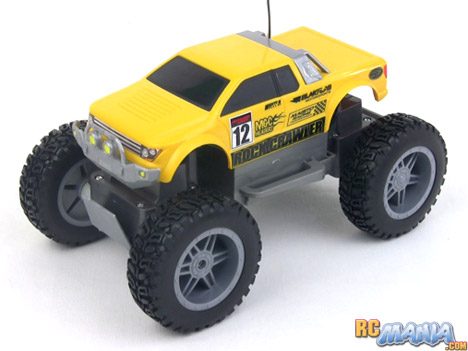 Street Price: $28-40 US
Manufacturer: Maisto Tech
Mfr's recommended min. age: 6
Our recommended age range: 4-7
Primary use: Indoor or outdoors
Top speed: n/a
Radio: 27mhz
Includes:
Assembled vehicle
Controller
Instructions
Requires:
4x AA batteries
1x 9V battery
Initial Impressions
I previously tested the original Maisto Tech Rock Crawler and enjoyed it very much. Now they offer a much smaller and just slightly cheaper version aptly named the Rock Crawler Jr. (Junior). This little guy is about 8 1/2 inches long and comes with a very small controller to work well in particularly small hands, as the manufacturer's recommended minimum user age is just 6 years. Like its larger predecessor, the Rock Crawler Jr. features very soft spring-loaded suspension that allows the axles to twist & flex dramatically to get over obstacles. The treaded tires are semi-pneumatic (hollow inside & squishy) and made from a soft rubber compound for maximum traction. Everything about the vehicle seems good at first glance, but of course, it's the performance & play value that really matters. Speaking of which...
Testing
Like the full-size version, the Rock Crawler Jr. has two motors with geared-down transmissions to supply a lot of torque, while sacrificing speed. The idea of all rock crawlers is to climb over obstacles slow & steady, rather than trying to plow through too quickly and ending up getting stuck. This strategy works well, as the truck does crawl over rocks that no other toy-grade RC of this size can, and it does it with ease. The terrain that will stop the Rock Crawler Jr. is something exceedingly steep, or rocks more than half the height of the entire vehicle.
The one thing that isn't so great on this truck is the steering. It responds quickly to your controls, but it just doesn't steer very sharply, especially when going forward, so you have a pretty large turning radius. It turns better in reverse, so if you run out of room to make a turn, you can do a "multi-point turn" by alternating forward & back, steering the opposite way when in reverse, and after a few tries you'll be pointed in the desired direction.
Video
First up is my standard overview & testing video:
This time I took so much extra video footage that I decided to publish an extra video with no narration, just showing the Rock Crawler Jr. doing its thing, with minimal editing:
Conclusion
The Maisto Tech Rock Crawler Jr. takes the great design and performance of the larger original Rock Crawler and brings it down to a smaller size that's more accessible to younger kids. Because of this smaller size and appropriately reduced speed, it's also even safer for kids to use indoors, less likely to cause accidental harm to its environment.
Right after I finished my testing of the Rock Crawler Jr., I gave it away to a 5-year-old who proceeded to drive it around endlessly with bright eyes, a big smile and a lot of imaginative play scenarios. As mentioned earlier, the steering mechanism could be improved on this truck, but even with this small shortcoming, it's still a great value.