RC Rock Crawler
October 2010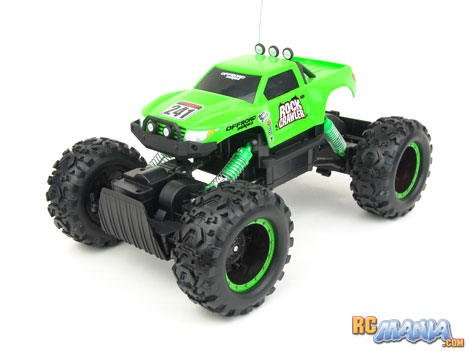 Street Price: $30-$45 US
Manufacturer: Maisto
Mfgr's recommended min. age: 8
Our recommended age range: 5-10
Primary use: Outdoors
Top speed: A crawl
Radio: 27mhz, tri-band
Includes:
Assembled truck
Controller
Instructions
Requires:
6x AA batteries for the truck
1x 9V battery for the controller
Initial Impressions
The rock crawling segment of the hobby-level RC world has been hugely popular for several years, and toy-grade manufacturers have alternately tried and failed to get a serious piece of this market. Maisto made their first attempt at it in 2010 with this small truck, simply called the "Rock Crawler." It has the right look, with tall tires that have an aggressive tread pattern, and a small body that stays out of the way of the wheels when the suspension flexes. Speaking of flexing, the Maisto RC Rock Crawler can do plenty of it:
The springs are very soft, and a reliable "three link" suspension design is used to keep everything on the truck lined up properly no matter how much the terrain makes it twist. Twin motors are used to give the truck true four-wheel drive.
The Maisto RC Rock Crawler is available in three different colors, but each has tri-band control built in, so even if you get two of the same color, you can run them at the same time without radio interference.
Testing
On flat ground, the Maisto Rock Crawler is pretty slow, but that's actually a good thing. When you get to really rough terrain, you need to attack obstacles carefully and deliberately, and you also want the truck to be geared low enough to have the torque to power over tall rocks and dirt clods. There's a very simple reason for the name "crawler!"
When going over a really rough surface, the Maisto Rock Crawler does an excellent job of scaling obstacles and maintaining traction. Even when you get stuck, it's almost always possible to get unstuck without having to physically move the truck by hand. It has no digital proportional control, so to really go slowly you have to "blip" the throttle to keep it from going speed. Steering is also an all-or-nothing affair, so sometimes to make just a small course correction you need to steer, blip the throttle, let go of steering & go straight briefly, and repeat the process. It all feels pretty natural and controllable, though, and the way the truck behaves makes sense and is consistent. You don't have to fight it at all.
Video
(Click a video a second time to view it larger in a new window.)
Conclusion
The Maisto RC Rock Crawler is short on features but big on performance. It really tackles terrain that very few toy-class RCs ever made could ever successfully navigate. The price is the only very minor strike against it, as most stores as of this writing are charging about $40 US for it, and it doesn't come with any of the needed batteries. I'd strongly suggest using rechargable AA batteries for the truck to stretch your dollar as far as it can go. The truck itself though, works as advertised and should provide hours of a very engaging type of play.