Air Hogs Heli Replay
July 2012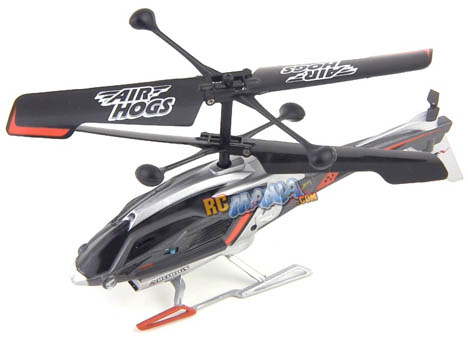 Street Price: $44.99 US
Manufacturer: Spin Master
Mfgr's recommended min. age: 10-12
Our recommended age range: 8+
Primary use: Indoors
Top speed: n/a
Runtime per charge: 5+ mins
Controller: Infrared
Includes:
Assembled heli
Controller/charger
Air Hogs Link adapter
Instructions
Requires:
4x AA batteries
(Optional) iPhone, iPod Touch, or Android device w/ tilt sensors
Overview
At first glance the Air Hogs Heli Replay looks to be a re-released version of the Gyro X I tested last year. It's a micro-sized infrared RC helicopter with three-channel control (up/down, left/right, and forward/back). It has two counter-rotating main rotor blades with counterweights for a self-levelling, self-stabilizing effect, and a fully enclosed fuselage with skids for takeoff & landing. The twin-stick controller takes 4 AA batteries and doubles as a charger for the helicopter. You don't need to control the Heli Replay with that controller, though. The package includes a small gadget called an Air Hogs Link which plugs into the headphone jack of a compatible Apple iOS or Android-powered handheld/mobile device, converting sound output from a free Air Hogs app into the same infrared signals the normal controller puts out. The app gives you the option to either run a simulated twin-stick controller from the touch screen or use your device's built-in motion sensors like you're playing a game.
See the Air Hogs Heli Replay up close and in action in the video below, and find out about the unique extra feature that puts the "replay" in its name.
Test & Review Video
Conclusion
Air Hogs used to rule the low-cost RC heli world with their Havoc, but a newer generation of gyro-stabilized competitors like the veritable Syma S107G crushed them in both performance and value. With the Heli Replay, I feel like Air Hogs is back in the game. This aircraft has excellent airborne stability and durable, relatively safe construction, making it an excellent first heli for brand new pilots, while it has respectable speed & agility to keep more experienced users entertained. Throw in the dual-mode Air Hogs Link setup for folks with modern mobile devices and you have a well-sorted bridge between good old fashioned RC toys and the most current & popular technology, all at a reasonable price. Though the "replay" feature isn't all that great, I feel it's not core to the success or failure of this helicopter, and even as a pure gimmick it does add some novel entertainment. All told, I'm pretty happy with the Heli Replay.