Air Hogs Gyro X
October 2011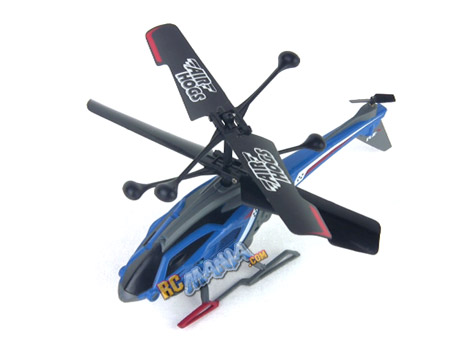 Street Price: $39.99 US
Manufacturer: Spinmaster
Mfr's recommended min. age: 10-12
Our recommended age range: 7 to adult
Primary use: Indoors
Top speed: n/a
Runtime per charge: ~5 mins.
Controller: Infrared
Includes:
Assembled heli
Controller / charger
Instructions
2x Spare tail propellers
Requires:
Initial Impressions
The Air Hogs Gyro X is, from my understanding, a Radio Shack exclusive release in the US. It's the lowest-priced RC helicopter Air Hogs has released with a built in "gyro" electronic stabilization system for smooth flight. The heli itself looks nice, with high-tech styling and a completely enclosed fuselage, but there's nothing ground-breaking apparent about its design. One thing that I do particularly like is that it has a very stable base when it's on the ground. The landing skids are almost as long as the main fuselage, and there's a tail fin that extends down almost to the ground as well. Good footing like this makes takeoffs and landings easier and more stable. My favorite aspect of the Gyro X, before even flying it, was the controller. First off, the left (throttle) stick has no spring in it, so where you move it, it will stay. This can help you get a helicopter to the point where it will hover, then leave the up/down movement control alone briefly while you focus more on direction and flying around. It's a little easier on your fingers too. The best thing to me, though, is that the controller only needs 4 AA batteries instead of the usual 6. That makes the controller smaller and lighter than normal, and it's also a little cheaper to get started flying, as those AAs are all you need since the heli charges up directly from the controller.
Testing
The Gyro X is unquestionably the easiest to fly Air Hogs helicopter I've ever tested. It's smooth & stable. Up/down movement feels like it's electronically slowed because if you go from low throttle to maximum, it doesn't shoot up to the ceiling instantly, it ramps up the power over the course of a second or so, giving you more time to react. Forward/reverse movement is more gradual still. Compared to other 3-channel helicopters, this one does not give the same level of excitement and danger, filling the deficit with confidence & safety, but it's not so slow as to be boring.
Thanks to the gyro system, left/right turning is crisp and precise. It actually rotates like it's attached to something solid. Unlike the other directions of movement, turning starts immediately, and when you let go of the right stick, it stops immediately -- very robotic and in stark contrast to the other silky, buttery controls.
Video
(Click a video a second time to view it larger in a new window.)
Conclusion
I don't see why Air Hogs marketed this as an intermediate- to advanced-level product. Sure, older kids and especially adults can appreciate the sophistication and full control of this craft. However, being as easy as it is to get in the air and safely keep there, this is a perfect first-time beginner heli for even the younger crowd. Though I'm recommending it for ages 7 & up, I know there are some even younger kids out there with good hand-eye coordination who would do great with the Gyro X as well.
The only thing holding the Gyro-X back from an A+ rating is the $40 price. As of the time of this writing, there were two 3-channel gyro-stabilized helicopters available at Toys R Us from different companies at $35. Meanwhile, you can get the veritable Syma S107G for $25 online with free shipping, or around $30 if you find it in a brick-and-mortar store.