Air Hogs Battle Tracker
September 2012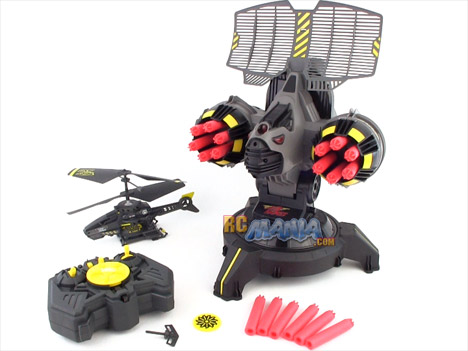 Street Price: $99.99 US
Manufacturer: Spin Master
Mfgr's recommended min. age: 10+
Our recommended age range: 8+
Primary use: Indoors
Top speed: n/a
Runtime per charge: 5+ mins (helicopter)
Controller: Infrared (heli), wired remote or automated (turret)
Includes:
Automated Robotic Turret (A.R.T.)
Turret radar dish
Assembled attack helicopter
Controller/charger
18x foam turret missiles
7x foam helicopter projectiles
Small tool
Instructions
Instructions
Requires:
4x AA batteries for turret
6x AA batteries for heli controller
Overview
The Air Hogs Battle Tracker is an impressive-looking set pitting a 7" long RC helicopter against a 15" tall surface-to-air missile turret. While most RC vs. RC battle systems use invisible infrared light to "shoot" targets, the Battle Tracker ups the ante with actual physical projectiles. The "A.R.T." turret unit shoots twelve foam darts with soft silicone tips, one at a time. The helicopter holds four flat foam discs and shoots them one at a time out the front of it.
The turret uses 4 AA batteries to power its internal mechanisms, while the helicopter has a non-removable, rechargeable battery which you charge up from its controller. As is the current norm for this sort of setup, it takes roughly 30 minutes to charge the heli for a 5-minute flight.
Check out the video for a few more details and for a bunch of live battle footage.
Test & Review Video
Conclusion
The Air Hogs Battle Tracker is a cool set. Though the attack helicopter has only 2-channel control, it flies at least as well as the Sharp Shooter, but is larger and shoots projectiles that are easier to find around the house when it's time to reclaim them & reload. It does its job well. The A.R.T. turret looks great and makes for a nice remote-controlled unit for shooting just about anything. It doesn't do so well at shooting the helicopter, though. Doing this under manual control is out of the question, and though the sophisticated heli tracking system works admirably well, the heli is just too small of a target and almost always evades the missiles, even when it's not trying to. My video was shot in a small, enclosed space, but the problem is only rapidly magnified when you try to set up a larger battle space. As the heli pilot I didn't feel much anxiety about getting hit, as it will rarely happen, and when it does, not much happens. I feel like Jada's air vs. land Battle Machines set, which costs a lot less, does better in playability & excitement with its wide-shooting infrared turret and gyro-stabilized heli. Where I personally feel the Air Hogs Battle Tracker set scores big points is with the heli & turret played with separately. Again, the heli is somewhat of a better Sharp Shooter, and you can set up an infinite number of targets & shooting challenges for it. The turret, meanwhile, is a mechanized 12-shot Nerf gun. That's pretty darn cool in & of itself.
Again, all told, fun toys here, but they lose a little in the value & "works as advertised" departments.