iCopter V929
December 2012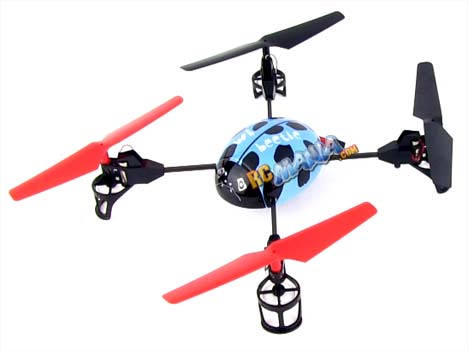 Street Price: $40-50 US
Manufacturer: WLtoys
Mfr's recommended min. age: n/a
Our recommended age range: 12+ with prior flight experience
Primary use: Outdoors, large indoor spaces
Top speed: n/a
Runtime per charge: ~10 mins.
Controller: 2.4Ghz radio
Includes:
Assembled aircraft
Controller
Spare rotors
Charger
LiPo battery
Instructions
Requires:
Initial Impressions
Having recently tested the X1 mini quad-copter from Syma, I figured I'd try out a competitive model from another accomplished toy-grade RC helicopter maker, Wltoys. They actually have two different models, the 7" v939, and this larger ~11" v929 covered here, both around the same price. This one comes with a 1-hour wall charger for the single included lithium-polymer battery that's removeable & replaceable for the aircraft itself. Other than that, this looks pretty much like any other small quad-copter to my eyes, so I suppose I'll just have to try actually flying the thing to see if it's any good!
Test & Review Video
Conclusion
I don't think I've had a review wrap up quite like this one before. The simple fact is, most RC Mania viewers should not buy this. The Syma X1 is a better, safer bet if you're not an experienced pilot. For folks who have already developed 4-channel helicopter flight skills and want to try an agile, yet inexpensive quadcopter, the Wltoys v929 is actually a pretty good deal, so long as you don't want to do the crowd-pleasing flip tricks. Bring your skill and stay away from the 100% setting, or pass.