Air Hogs Apache Havoc Micro Helicopter
September 2007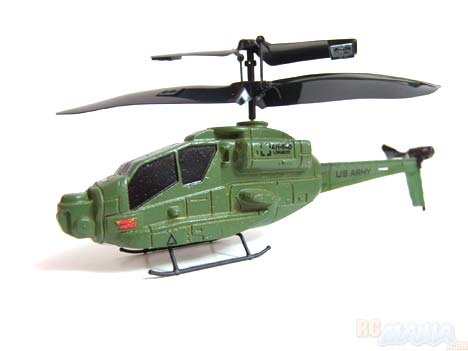 Street Price:
$39.99 US
Manufacturer:
Spin Master
Mfgr's recommended min. age:
8
Our recommended age range:
10+
Top speed:
Not tested
Radio:
n/a (infrared)
Includes:
Fully assembled helicopter
Controller / charger
Instructions
Requires:
6 AA batteries for the controller
Competitive vehicles:
Initial Impressions
When I reviewed the original Air Hogs Havoc, one of my few gripes was that it really didn't look good at all. I guess I wasn't the only person who felt this way, because look at what Spin Master has released now!
Now this is what I'm talking about! The internals are 100% Havoc, but the fuselage is all new. The shape looks great and there are a lot of details, including real landing skids this time. For something so small and lightweight, the new Apache Havoc looks great!
Preparing to Fly
Once again we have the tried & true setup of a chrager built into the transmitter. The Apache Havoc has a high-performance lithium polymer ("LiPo") battery sealed inside the fuselage, and you charge it from a small plug on an extension cord that tucks away neetly in the controller. It tends to take about 10-15 minutes to charge, then you're ready to get airborne.
Testing
Like the original Havoc, I really needed to launch the new heli from my hand, as trying to take off from a tabletop or the floor made it go crazy and out of control at first as the rotor blades got up to speed. The technique is to hold the controller in your left hand so you can use your thumb to give it about 2/3rds throttle, while holding the heli from the bottom in your right hand. When the blades are up to speed, let go, step back, and quickly move your right hand to the right controller stick to fly.
The first time, on the first charge, the heli was spinning continually, so I had to adjust the trim on the controller by hitting the appropriate button a handful of times. Once it was properly trimmed, it flew mostly like its predecessor, only a little more jittery. It's reasonable to expect slight differences in flight characteristics even from one of these helis to another identical one, because the most microscopic difference in the twist of a blade or how closely the fuselage was glued together can throw it off, it's so lightweight. I can live with this. It's still very controllable even in a very small space.
I noticed that the Apache Havoc was able to hover around under my control, but it didn't really move too far in any direction. Evidently it was *too* well-balanced. To help it move forward, I used the small squares of aluminum tape included in the package to add weight under the nose, helping it to lean forward just slightly and thus always want to fly forward slowly. Two of the little strips right under the nose didn't interfere with the look of the heli and made it fly just the way I wanted it to.
Video
Again, I have to apologize for the imperfect video. Flying isn't too hard, taking a video isn't too hard, but flying and taking a video at the same time? Not easy. At least this time I was able to get enough footage for two short video clips.
(Click a video a second time to view it larger in a new window.)
Conclusion
Wow. Congratulations, Spin Master. The Havoc was good, really good, and innovative, but it looked like a flying block of shaped styrofoam. The Apache Havoc retains all of the positive qualities of the original, but adds a really cool, realistic external appearance that really completes it properly. This is a winner!