Rock Crawler Extreme
September 2013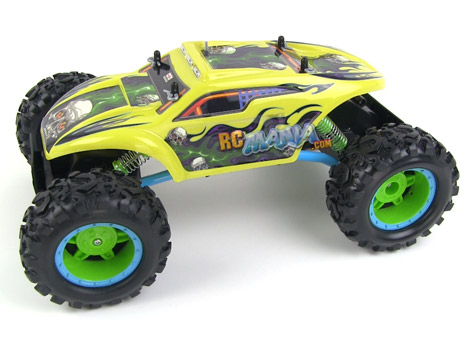 Street Price: $30 US
Manufacturer: Maisto Tech
Mfr's recommended min. age: 8+
Our recommended age range: 6+
Primary use: Outdoors
Runtime per charge: 15-45 mins, varies by driving conditions
Controller: 27mhz tri-band
Includes:
Assembled vehicle
Controller
Instructions
Requires:
6x AA batteries for the vehicle
2x AAA batteries for the controller
Initial Impressions
I tested the original Maisto Rock Crawler several years ago and it performed astoundingly well at the time. The truck has remained on the market consistently since then, and this year they have an updated "Extreme" version with new colors, a new type of body, and a more kid-friendly controller. No batteries are included for the $30 price, so a couple sets of rechargeable AA batteries would make a supremely wise investment. Let's see how the new version runs!
Test & Review Video
Conclusion
Outstanding. The original was already top-of-class, and the new one seems to perform very slightly better, but at a 25% lower cost as of this writing. It doesn't get better than this! I mean it. There is not one other toy-grade RC on the market that can compete with the Rock Crawler Extreme. Not one! It is rare that I gush about any product, as I'm always keen to balance positives with negatives, but this RC deserves every bit of praise I can give it. Kudos to Maisto on this one.
PS: This review was not sponsored or endorsed in any way by the manufacturer. I purchased this product at retail, as a regular consumer, at my own discression.