Halo RC Hornet
September 2010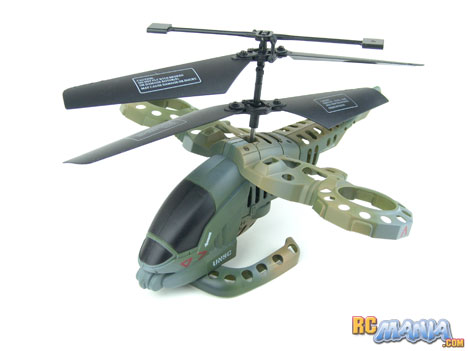 Street Price: $34.99 US
Manufacturer: NKOK
Mfgr's recommended min. age: 8
Our recommended age range: 8+
Primary use: Indoor
Top speed: n/a
Radio: Infrared
Includes:
Assembled craft
Controller/charger
Instructions
Requires:
6x AA batteries for the controller
Initial Impressions
Ever since I reviewed the Halo RC Warthog, I've been awaiting a chance to try out the flying Hornet. I kept forgetting to look for it online, since it was hard to find at first, but finally it's out everywhere and I picked one up at a local store. The fuselage, side rails and rotor pods have a lot of odd-looking holes in them to reduce weight and alow more air to flow through them, but I don't know, I actually like that look for some reason. What I don't like is that to make the RC version of a Hornet easy to fly and practical, they actually based it on a co-axial helicopter, so there are two very large rotors with free-flexing blades on the top of the thing. It doesn't make a convincing scale model for display on a desk or shelf.
Testing
The good news is that the sacrifice of appearance paid off in quality of flight. For a basic indoor micro helicopter, it is exceedingly stable and easy to fly. It has a bit of built-in forward weight bias, which makes it want to lean slightly forward and thus move forward at all times as well. For a two-channel craft that only has up/down and turning controls, this is actually better than having a perfectly-balanced heli that just kind of floats around and doesn't always go where you want it to go. The first flight may surprise you with the forward motion (as you'll see in the video), but you can get used to it very quickly. All you have to worry about is controlling the height with the left stick on the transmitter, and turn in the direction you want to go with the right stick. Wherever you point it, it will go, and it really doesn't fight you or spend a lot of time repeatedly correcting itself.
Video
(Click a video a second time to view it larger in a new window.)
Conclusion
As a replica of the popular in-game aircraft, this officially Microsoft-licensed RC Halo Hornet is a little bit cool, a little bit not. As an easy-to-use indoor helicopter, it's very good. Sometimes when you try to turn an imaginary item into something real & tangible, you have to make compromises. In the case of the RC Hornet, it's a compromise of "realistic" looks versus actual flyability, and I'm very happy that NKOK leaned towards the latter, as a great-looking craft that wouldn't fly for more than a few seconds would be taken straight to the returns counter. For a Halo fan who likes the idea of having a real-world, working artifact of the in-game experience and doesn't mind some obvious aesthetic flaws, the RC Halo Hornet is a winner.