Hawk 4 RC helicopter
October 2011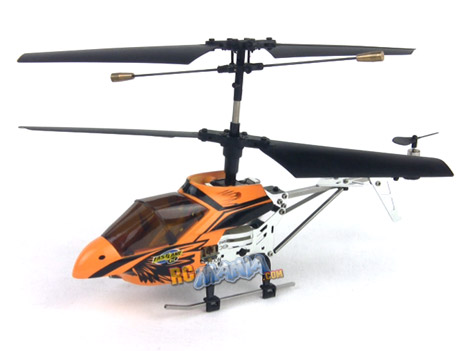 Street Price: $34.99 US
Manufacturer: Woddon Industrial for Fast Lane RC
Mfr's recommended min. age: 8+
Our recommended age range: 8 to adult
Primary use: Indoors
Top speed: n/a
Runtime per charge: ~7 mins.
Controller: Infrared, tri-band
Includes:
Assembled heli
Controller / charger
Spare tail propeller
Requires:
Initial Impressions
Honestly speaking, Fast Lane has had a lot more misses than hits in their RC aircraft product line. However, a couple of things about the Hawk 4 gave me a lot of hope when I first saw it on the shelf at Toys R Us. First, it is advertised as having gyroscopic stabilization, an electronic assist to help you keep the craft under control. Second, much of its construction is metal, from the side frames to the tail boom. It looked well-built, and after I unboxed it at home, it felt well-built as well. There's nothing new about its design, following a now well-known formula for 3-channel (up/down, right/left, forward/back) helicopter design. Because of its small size, it's paired with a controller that doubles as a charger for the heli. It'll take anywhere from 20 to 30 minutes to fully charge a completely drained battery, but the heli comes out of the box already halfway charged, so you'll be in the air much sooner than that. My ownly grievance with the charging system is that the sliding door on the controller that houses the charging jack has the most unfriendly design I've ever encountered for such a thing. Depending upon how the wire got folded up inside, it can be hard to get the plug out and/or hard to shut the door when you put it back in. This doesn't affect anything performance-wise of course, it's just a little frustrating.
Testing
What do you know, the Fast Lane Hawk 4 flies like it's well-built. It's 3 for 3. It can come about as close to hovering in one spot in the air as you can ask of a $35 toy. The gyro system works perfectly and is very smooth. When you tell the heli to turn, it begins to turn immediately, but without a sudden jerking motion, and when you let go of the right controller stick, it stops its turn and holds its direction exactly where you left it. The motion is crisp, but not jarring. Forward/reverse motion is a little smoother around the edges, but very confidence-inspiring. If you get going too fast, you can easily just reverse to stop pretty quickly, or again, you can just let go of the right stick, and the heli will level itself out and stop.
While the Hawk 4 can fly very smoothly, it can also pick up some speed, and the maximum turning rate is not at all sluggish. You can get the whole thing zipping around through the air pretty fast and do spins, panicked falls with recovery, backwards flight, and "j-turns." It can be pretty fun, without being scary.
Video
(Click a video a second time to view it larger in a new window.)
Conclusion
The Fast Lane RC Hawk 4 is a solid "hit." It works very well for anything from brand new to intermediate fliers. It's very well constructed, and delivers on any and all promises it makes with its packaging, design, and instructions. Even the price is very reasonable. As of this writing, yes, you can get a comparable product from a lesser-known brand online or from some mall kiosks or electronics stores. From a well-established store with excellent, well-known, walk-in customer support for returns & exchanges in the off chance you get a defective unit, this is just about as good as you're going to get.