Air Hogs V-Wing Avenger
September 2008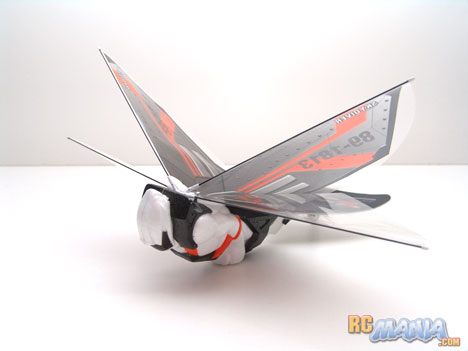 Street Price: $39.99 US
Manufacturer: Spin Master
Mfgr's recommended min. age: 8+
Our recommended age range: 8-12
Primary use: Indoor
Radio: n/a - infrared
Includes:
Assembled aircraft
Transmitter / charger
Extra rudder assembly
Special repair tape
Instructions
Requires:
4 AA batteries for the transmitter
Initial Impressions
There's a V-Wing Avenger that looks like a bug, then there's this one which is supposed to be a skydiving guy with a flight suit. Both of these ornithopters (machines that fly like birds) just look like bugs to me, just like the Wow Wee Dragonfly I tested some time ago. The biggest difference is that this one is much smaller, about 10 1/2" wide and under 8" long. It also uses a rudder instead of a sideways-facing propeller for steering, and it has an airplane-like tail.
Preparing to Fly
Load up the 4 AA batteries in the controller, plug the avenger right in, and charge it up. You're ready to go, just like that!
Testing
I'm not going to beat around the bush on this one. The V-Wing Avenger flies AMAZINGLY well! It is completely and utterly stunning. It flies very stable and very slow, and is extremely easy to control, while being very responsive. The wings flap very fast, so it's more like a large, slow moth than a bird. It's not like a weak, frail moth, though, but a strong & confident one. If you get too low and want to gain altitude quickly, max out the throttle and it climes very rapidly with an explosive burst of speed and lift. It's impressive to watch, and even more so to control. But don't take my word for it...
Video
(Click a video a second time to view it larger in a new window.)
Conclusion
As of this writing, the V-Wing Avenger is the new undisputed champion of indoor flight. For the price, I don't think you're going to find anything that can even come close to it in terms of controllability, stability, ease of use, and true small-space indoor capability. This is an underrated, underappreciated marvel of affordable airborne engineering and I highly recommend it for kids and adults alike.