Air Hogs Pocket Copter
September 2010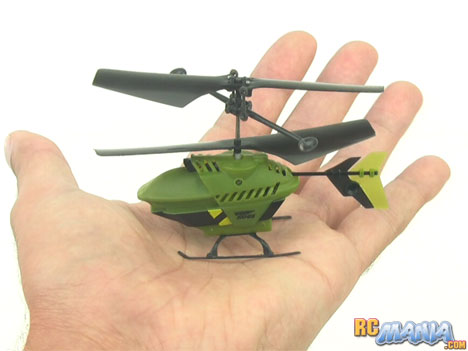 Street Price: $34.99 US
Manufacturer: Spinmaster
Mfgr's recommended min. age: 10
Our recommended age range: 10 to adult
Primary use: Indoor
Top speed: n/a
Radio: n/a, infrared
Includes:
Assembled aircraft
Controller
Unassembled carrying case / charger
Instructions
Requires:
3x AAA batteries for the controller
6x AA batteries for the charger
Initial Impressions
What do you know, they went & made an even smaller RC helicopter! The Air Hogs Pocket Copter is a Toys R Us exclusive release and measures under 3 1/2" from nose to tail (less than 4" including the rotors). It's not much bigger than a Matchbox car, and smaller in actual scale. In spite of the name, though, it's definitely not designed to be carried around in your pocket. In a departure from the Air Hogs norm, the controller does not have a built-in charger. Instead, they put the charger in the carrying case, which they cleverly let you assemble yourself (it's easy) out of the top & bottom of the box the heli is sold in.
I like this case as it's pretty durable and protects the Pocket Copter from damage when it's in storage, and it also makes it a lot more convenient to carry around as you don't have two objects to hold on to (one of them fragile), you just have a single sturdy box.
Testing
It flies! With a little bit of adjustment with the trim buttons on the controller, the Air Hogs Pocket Copter was up, up, and away and flying around the room. For its size, it is very stable and not too jittery. Definitely much better than the company's last attempt at an ultra-small heli, the Micro Havoc. The Pocket Copter flies somewhat like a Christmas tree ornament dangling from an invisible fishing pole. That's really the best way I can describe it. It tends to rock back & forth as the weighted "flybar" connected to the upper rotor combats any tendency for the craft to get out of shape. Meanwhile, its actual flight path is pretty smooth. The only difficulty I had was with getting it to turn equally well in both directions. When it's set to fly perfectly straight, it seems to want to turn more sharply in whichever direction you last adjusted it with the trim buttons.
There is one simple design innovation on the Pocket Copter that I instantly fell in love with, and that's the adjustable rear fin. If you look at the first picture at the top of the article, you'll see a green section on the tail, and a black section. The black part can actually slide forward however little or much you want, and it has a small weight built into it. Veteran helicopter owners know that sometimes these mini-sized craft need a little weight added under the nose to make them lean and fly forward on their own. With the Pocket Copter's weighted fin, you can change the amount of forward in seconds. It's free, built in, completely reversible, and can be done in very fine increments. Great feature and it works well.
Video
(Click a video a second time to view it larger in a new window.)
Conclusion
The Air Hogs Pocket Copter might not fit in your pocket, but it is one of the smallest RC helicopters you'll find on the market today, and probably the best-flying for its size. It's not as smooth & steady in the air as a larger craft like the Sharp Shooter, but it's definitely controllable enough to fly around even a small room without crashing. The carrying case is a nice thing to include, but I still prefer having the charger built into the controller, so there are less batteries you need to buy and any time you have the controller, you can charge up & fly without having to return to "base." At $34.99, the Pocket Copter is a cool novelty. It's not the best deal in town, but if you're a fan of miniturization, this is the heli for you.