Air Hogs UAV (black v-tail version)
June 2012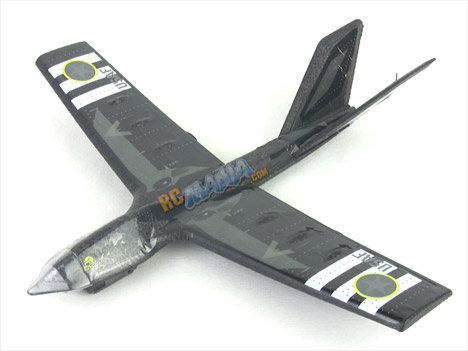 Street Price: $29.99 US
Manufacturer: Spin Master
Mfgr's recommended min. age: 8+
Our recommended age range: 8+
Primary use: Outdoors
Top speed: n/a
Runtime per charge: 6+ mins
Controller: 27mhz AM
Includes:
Assembled airplane
Controller/charger
Instructions
Requires:
Overview
This is the second Air Hogs Jet Set series product I've reviewed that's called a UAV (unmanned aerial vehicle). The first is detailed here and had an entirely different design. The one we're looking at now has a much more traditional airplane design with mid-mounted wings, a long fuselage, and a tail, except this one does use the relatively uncommon V-shaped tail design. This is a 2-channel radio controlled plane made mostly of a tough, flexible foam material that can withstand a lot of abuse. Propulsion comes from two electric motors with small propellers that just happened to be mostly folded out of sight in the picture above. You'll see them clearly in the video.
This Air Hogs UAV comes with the same controller as the other current Jet Set craft, a simple AM-band radio unit with a built-in charging port. These are really easy to use because the control sticks are near the outer edges for smaller hands to reach them, and the left/right directional trim control is a rotary knob that's easy to grab. The charging system is also completely foolproof, with the jack being very sturdily built right into the front of the controller with no sliding hatch or wobbly wire needed to hide it away. It's also bi-directional, so whether you attach the plane facing forward or back, it'll charge properly. It takes about 30-45 minutes for a full charge.
Check out more details and see how this Jet Set model flies in the video below.
Test & Review Video
Conclusion
Spin Master / Air Hogs got everything right with this one. This is a pretty foolproof, stable, confident-flying RC plane at a very low price, and I believe you get everything you pay for and more. To be able to get this sort of fully controlled flight experience for just $30 US is a real pleasure.