Heli Twister
December 2012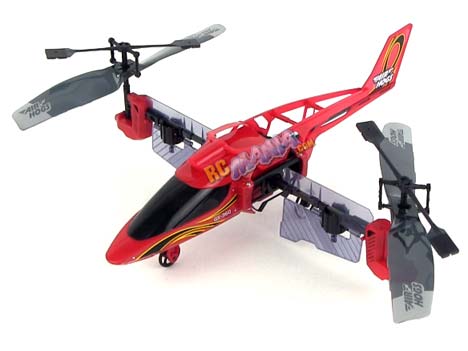 Street Price: $50 US
Manufacturer: Spin Master
Mfr's recommended min. age: 10+
Our recommended age range: 10+
Primary use: Indoors
Top speed: n/a
Runtime per charge: ~6 mins.
Controller: Infrared
Includes:
Assembled aircraft
Controller
Instructions
Requires:
Initial Impressions
At first glance, I thought the Air Hogs Heli Twister was a miniaturized version of the discontinued Osprey that I so thoroughly enjoyed. Once I got the 'Twister out of the package, though, I realized that this was a very different beast. In spite of the oft-attempted V-22 Osprey type of design, this toy functions primarily as a multi-rotor helicopter, and does not have an airplane-like flight mode. While the Air Hogs Osprey had a fixed main fuselage with a wing & motor-driven rotors that would rotate, the Heli Twister does just the opposite! Its rotors are always in a heli-like orientation, pushing air straight down, while a mostly hollow fuselage is able to spin around under your control. Watch the video to see just what I mean.
Test & Review Video
Conclusion
This is good stuff! I'm very satisfied with the AIR Hogs Heli Twister and think I got a good value for the money. Most importantly, it performs as advertised, and it's a lot of fun. 'Nuff said!
PS: This review was not sponsored or endorsed in any way by the manufacturer. I purchased this product at retail, as a regular consumer, at my own discression.