Air Hogs Heli Cage
June 2012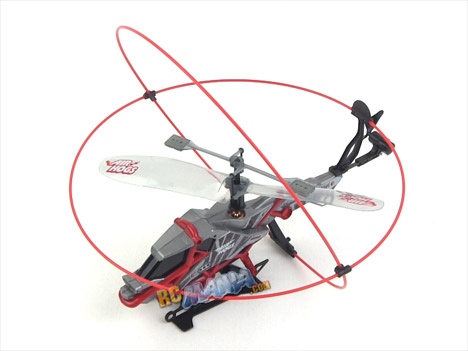 Street Price: $39.99 US
Manufacturer: Spin Master
Mfgr's recommended min. age: 5-8
Our recommended age range: 8-10
Primary use: Indoors
Top speed: n/a
Runtime per charge: ~5 mins
Controller: Infrared
Includes:
Assembled helicopter
Controller/charger
Spare tail rotor
Instructions
Requires:
Overview
The Air Hogs Heli Cage is a micro helicopter with a unique pair of protective loops designed to make it safer and more resillient than any other RC heli to date. The horizontal hoop acts like a bumper for crashing into things, while the almost-vertical one is more like a roll bar, helping the whole ting to slip back onto its skids if it falls to the ground. As is pretty standard for Air Hogs micro RCs, the Heli Cage has a controller that doubles as a battery charger for the 'copter itself. This one has two extra buttons on it compared to the norm, though. Activated by your index fingers, one gives the heli a short burst of forward motion. The second is for an even longer burst and faster flight.
All of the features sound great, so let's see how things work out in real-world testing!
Test & Review Video
Conclusion
Well, that was a bit of a let-down. The Air Hogs Heli Cage seems to have all sorts of good things going for it on paper, but in practice it might as well just be a Havoc with extra-wide landing skids. Its really tough to control in the air and acts like it has a mind of its own. I think anyone who posesses the hand-eye coordination to play a flying or racing video game well would find the Heli Cage frustrating to operate. As noted in the video, where this toy will shine is for younger kids who may not have the coordination or the patience to safely fly a helicopter, but want to do it anyhow. The Heli Cage lets these young pilots-to-be get airborne and then crash to their hearts' content without damaging rotors or leaving scrape marks on walls!