Air Hogs Foxfire
November 2009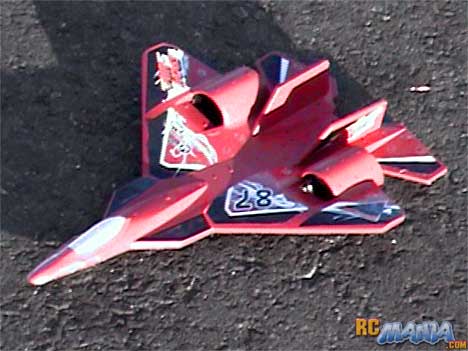 Street Price: $34.99 US
Manufacturer: Spinmaster
Mfgr's recommended min. age: 8
Our recommended age range: 8+
Primary use: Outdoor
Radio: 27mhz, 3 frequencies available
Includes:
Assembled plane
Controller/charger
Instructions
Requires:
Initial Impressions
Cool! Another jet-styled Air Hogs plane; in my opinion, the best-looking one they've made yet. It really looks like a fighter jet, maybe a cross between an F-15 Eagle and a F-22 Raptor. It uses ducted fans instead exposed propellers for an extra realistic appearance, and as an extra bonus, it should be more durable because there are no moving parts to hit the ground when you land (or crash). I just feel like staring at it, it looks so good, but that's not going to be of any use to you, is it...
Preparing to Fly
There's practically no preparation required as the Foxfire uses the typical Air Hogs system of charging from the controller. Just plug it in and wait for the light to go out.
Testing
We tested this plane in various wind conditions, but the video was taken on a fairly windy day and even then, it was able to fly pretty well. It flies like a monowing Aero Ace, meaning it's very stable, likes to stay very level, and pretty much does exactly what you tell it to. It's faster than the older Jetscream, but still just as controllable. Again what's most impressive, though, is just the way it looks. It's a thing of beauty up close, but in the air it's even better. The sillhouette of the Foxfire against the sky really looks like an actual jet fighter plane!
Video
(You can click on a video a second time to view it larger in a new window.)
Conclusion
I don't give out a lot of A+ ratings, but the Air Hogs Foxfire definitely deserves one. Everything about it is great, in every way. The only thing I can possibly think of that would make it better would be landing gear, but that would just be a "nice to have" thing. The Foxfire is the pinnacle of easy-to-fly jet-style RC planes for kids and adults alike.