Terrainiac
September 2007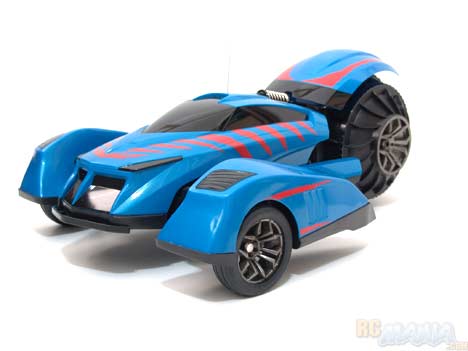 Street Price: $79.99 US
Manufacturer: Tyco
Mfgr's recommended min. age: 8+
Our recommended age range: 8-12
Primary use: Outdoors
Top speed: 14mph+
Radio: 49mhz
Includes:
Assembled vehicle
Transmitter
Antenna tube
9.6V rechargable battery
Charger
9V battery for transmitter
Requires:
Initial Impressions
Wow, what has Tyco come up with THIS time?! The Terrainiac is another all-new concept never before seen in RC. It's a three-wheeled all-terrain vehicle, and its most obvious interesting feature is the rear Sphere Drive:
This huge globe is made of durable hard plastic. It has two thin rubber tires down the middle for improved traction, but the paddles allow it go drive across water! The front tires are normal rubber. The whole design of the vehicle is futuristic, but also tough. There's a spring on the top that helps absorb big bumps or jumps. The controller is also unique -- you twist it to steer, and use paddles at the top that have arrows to go forward or backwards.
Preparing to Drive
Tyco has included a 9.6V battery and charger with the Terrainiac, plus a 9V battery for the transmitter. This means you just have to charge up, and you're ready to go. Huge kudos to Tyco for this -- I love getting everything I need in one box.
In the Professor's Lab
(The Professor was not available to comment.)
Testing
As soon as I started driving the Terrainiac, I was pretty impressed by its speed. Radar-tested at 14mph, it is faster than the vast majority of normal RCs, even race cars. What really amazed me, though, is how the Terrainiac steers. The whole rear section twists sideways, causing the main part of the body to turn as well. It doesn't have proportional steering, but I didn't find that to be a big problem.
On asphalt the Terrainiac had great acceleration and pretty consistent steering, and it was possible sometimes to do donuts and short drifts. When it gets a lot of traction in a turn, it will lean so far that one of the front wheels will come clear off the ground! Fun!
On dirt & gravel, speed was reduced, but the drifting action was even better. Sometimes I was able to start turning in one direction at full speed, start to spin out, then turn the opposite direction and just keep drifting, fully counter-steered. It did have trouble going over terrain that was too bumpy, as there's no suspension in the front and the front wheels are kind of small. It didn't have any trouble going over jumps, though.
The box and commercials say the Terrainiac will go over sand, grass, and snow. I don't live around snow, but I did test it on some sand and grass. It really doesn't belong in grass. The front wheels are so small and thin that they got stuck all the time. Maybe really, really short grass is okay, but most that you'll find at a park or in a lawn will be too much. As for sand, it's slow, but able to go over dense or damp sand. Loose desert or playground sand, though, makes it get stuck.
The final test was on water. This was really impressive. It's not fast on water, but just the fact that it can drive on it is awesome. The rear sphere drive kicks up a rooster tail of churning, bubbling water behind it, and steering works really, really well. You just have to be sure to stick to fairly calm water, as waves mess with the radio reception as you'll see in the videos.
Video
(Click a video a second time to view it larger in a new window.)
On the street:
On the dirt & gravel :
On the water:
Conclusion
Wow. The Terrainiac has to be one of the coolest land (and water!) RCs of the year. It's very unique and very versatile. It's very fast on land, and a great deal to include a rechargable battery and charger with the package. I only wish the front wheels were just a little larger so it could handle rougher terrain. Overall, though, I really like it!