Syma X1
November 2012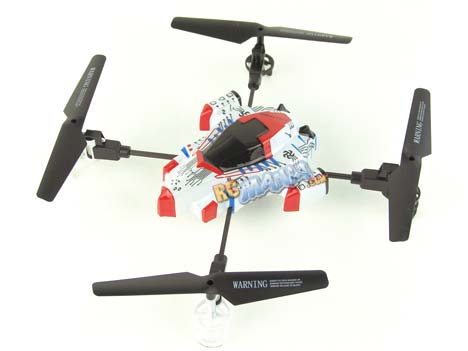 Street Price: $40-50 US
Manufacturer: Syma
Mfr's recommended min. age: n/a
Our recommended age range: 10+
Primary use: Indoor, outdoors w/ no wind
Top speed: n/a
Runtime per charge: ~8 mins.
Controller: 2.4Ghz radio
Includes:
Assembled 'copter
Controller
USB charger
Flight battery
Full set of spare rotors
Instructions
Requires:
Initial Impressions
I've flown so-called quadcopters before, but this is the first time I've reviewed one for RC Mania. I picked up the Syma X1 at my local hobby shop, but it's all over the Internet as well in countless online stores. Syma, if you recall, is the maker of the best and most popular micro helicopter of all time, the S107G. Now what I wonder is whether they can copy their heli success over to a fairly different type of aircraft.
The Syma X1 has four fixed-pitch main rotors, each of which is gear-driven by a tiny electric motor directly beneath it. Sturdy square carbon fiber tubes hold these at equal distanes from the center control board & battery mount, which is in turn covered by a very thin plastic body or fuselage which comes in three styles -- spaceship (shown here), round UFO, or cartoon bee. To get flying, you just need to put 4 AA batteries in the controller, and charge up the main flight battery with the included USB adapter. Charging takes about an hour on average.
Let's see how well this one performs!
Test & Review Video
Conclusion
Syma is on a winning streak! The X1 quadcopter works as well as I could ask of it, plus some. As an entry-level quadcopter it's pretty flawless, with smooth, easy low-rate controls that are very forgiving, without completely detatching the pilot from the craft with excessive automatic controls. In high rate mode, intermediate-level fliers get to up the excitement level and do more daring maneuvers. The mostly-automated flipping tricks are just icing & sprinkles on the cake at this point, adding an unexpected, spectacular treat. Only truly advanced pilots may feel some disappointment about the performance of the X1, as it doesn't really let you manually do extreme maneuvers that some "hobby-grade" multicopters allow. Those higher-end craft, though, cost 2 to 3 times as much as the X1, so I still think this is an absolutely fantastic value. Kudos to the folks at Syma!
PS: This review was not sponsored or endorsed in any way by the manufacturer. I purchased this product at retail, as a regular consumer, at my own discression.