Tyco 6V Sports Cars - WRC Rally Set
September 2006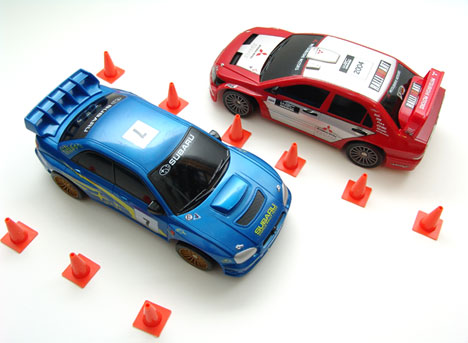 Street Price: $12.99 US per car
Manufacturer: Tyco RC
Mfgr's recommended min. age: 5
Our recommended age range: 5-10
Primary use: Indoor or outdoors
Top speed: 7.5mph
Radio: 49mhz or 27mhz
Includes:
Assembled car(s)
Transmitter
Instructions
Requires:
Small Phillips head screwdriver for the battery door
6 AA batteries per vehicle - 4 for the car, 2 for the controller
In the Professor's Lab
Technically, this review is specifically of the WRC (World Rally Championship) Rally car set which includes the red Mitsubishi Lancer Evolution car and the blue Subaru Impreza pictured here. However, Tyco's 6V Sports Car series consists of an always changing line of cars with different body styles from different car manufacturers, all based on the same chassis underneath. Thus, if you try one, you've basically tried them all, Mitsubishi Lancer to BMW M6 to Chevrolet Corvette. The differences are only cosmetic!
Initial Impressions
Thanks for that intro, Prof., that's good info to know. Now, about these cars! First off, they look great. They're really detailed for small, inexpensive RC cars and they look just like the real cars they represent. They don't even have external antennas sticking out, and that makes them look even better still, while reducing the choking hazard for small children. The WRC Rally set in particular includes 20 miniature traffic cones for designing your own "special stage" rally course, plus they include a stopwatch so you can race against the clock with an unlimited number of friends!
Preparing to Drive
No surprises here, these use regular AA batteries so you just put them in and you're ready to go. Both the cars and the controllers are clearly marked on the bottom with which frequency they're on, so you can't get them mixed up.
Testing
I went out to a parking lot with two friends to test out these cars. One of them has been into both toy- and hobby-level RCs for years, and the other had basically never driven any RC in his life. Guess what? All three of us had equally good times! These little cars are great. They're not too fast, but also not too slow for their size. Steering is responsive, and they're just plain cool to drive together. It's no frills, no-nonsense fun. The controllers are small enough for younger hands, but the buttons are big enough for adults to use with no problem. It's great to race two together because they're exactly the same speed and have the exact same handling, so it comes down to driving skill and wit to determine who wins! They last a long time on regular alkaline batteries too, well over 1/2 hour of non-stop full-speed racing.
The cars are really durable, too. We accidentally crashed them into some curbs a couple times, and not-so-accidentally crashed them into each other a bunch of times while chasing each other around, and they just got little smudges & barely noticeable scrapes on the bumpers. The bodies are thick and hard, yet soft enough to flex a little on impact so they don't crack easily.
Video
(Click a video a second time to view it larger in a new window.)
Conclusion
This is what toy RC'ing is all about, inexpensive, fun vehicles that can take a beating and just keep on rollin'! I would go so far as to say these cars are good for any age 5 through infinity, especially if a friend gets one too! If you're capable of having fun and like cars, the Tyco 6V Sports Cars are a great deal.