Nikko Wind Chaser
August 2006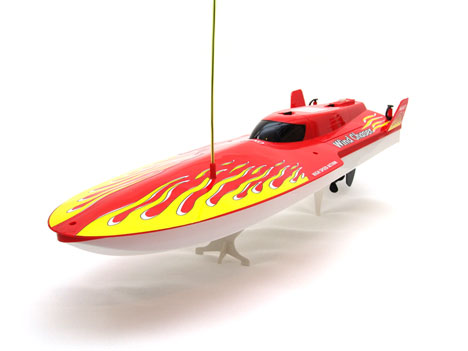 Street Price:
$69.99 US
Manufacturer:
Tyco
Mfgr's recommended min. age:
8
Our recommended age range:
8-12
Primary use:
Large pools, large ponds
Radio:
49mhz (also available in 27mhz as the "Striker II")
Includes:
Assembled vehicle
Transmitter
9.6V battery & charger
9V battery for transmitter
Antenna tube
Instructions
Requires:
Initial Impressions
This is the very first RC watercraft I've reviewed for the site, so everything was new and interesting to me. This boat is not only sleek on the underside, but above the waterline as well, giving it a very fast-looking, aerodynamic profile. It has splash guards along the front and vertical stabilizers at the rear. It includes a small stand that makes display & storage on a shelf easy & convenient. I'm anxious to try this thing out!
Preparing to Drive
Nikko includes a the batteries and and main pack charger you need, so you just have to charge the battery and insert the antenna tube before you're ready to go. The battery compartment is accessed through a hatch at the back of the cockpit, and and the latch that locks it down is hand-tightened so you don't need a screwdriver. Best of all, the whole compartment is sealed with a rubber ring to keep water out of the electronics. Very safe -- I like it.
Testing
This is a pretty big boat for a toy, almost two feet long, so it's not something you can drive around a bathtub or small pool. You really need a rather large pool or a large pond to really have enough room to race around. I actually took mine out to a calm lake to give it plenty of room for full throttle action. It ran very smooth and stable, slicing its way across the water and carving through turns. Speed is decent, but not overwhelming, but it felt scale-appropriate for the size of the boat. Turning is very responsive, but the boat did turn to pull to the right a little, and there was no trim to correct it.
It's a little hard to describe the Wind Chaser's performance without anything to compare it to yet, so check out the video and see for yourself! Total running time on one battery charge was about nine minutes, and we got about half of it on tape.
Video
(Click a video a second time to view it larger in a new window.)
In the Professor's Lab
(The Professor was out sick.)
Conclusion
I like this boat. I like its design & appearance, and it's stable and looks good going through the water. I only wish it had a steering trim adjustment, and I would also like to see a little more speed out of it, but I feel the price is right, especially considering that it comes with the battery & charger. The bar has been set, so over time we'll see how well competitors stack up!