Nikko Toyota FTX Monster Truck
September 2007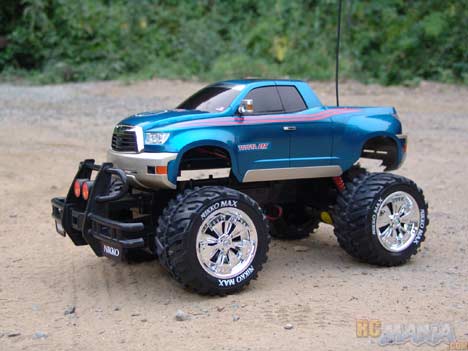 Street Price: $49.99 US
Manufacturer: Nikko
Mfgr's recommended min. age: 8+
Our recommended age range: 8-11
Primary use: Outdoors
Top speed: 9.9mph
Radio: 49mhz
Includes:
Assembled truck
Transmitter
Antenna tube
9.6V rechargable battery
Charger
9V battery
Requires:
Initial Impressions
As soon as this truck was out of the box, I was shocked. The candy-tone paint is well done. The spinners really spin. The suspension is tall and soft. But none of that is what amazed me most. This big, tall, heavy-duty truck is actually light in weight! It's the first Nikko 1/10th scale monster truck I've had in about 7 years and the difference is incredible. The all-new chassis design gets rid of a lot of material and is skeletal compared to the old ones, yet it's still strong enough to support the truck over rough terrain. Lighter weight means less of the power of the motor is wasted, so the truck should be able to accelerate faster and go up steeper hills than a heavier version.
A great feature this series of trucks has is a two-speed transmission. There's one gear for maximum speed, and another for maximum power. It's simple to change gears by flipping a lever on the back. In addition to the two gears, you also get two speeds on the controller -- regular and turbo.
Going beyond the looks, the car has full-time 4WD (four wheel drive) which is awesome for the price, plus four wheel independent spring suspension in a high-performance and sturdy "double wishbone" design. I only wish it used a rechargable battery pack, but you can just use rechargable AA batteries for more longevity.
Preparing to Drive
The truck comes with truly everything you need to drive, even a battery for the transmitter, so getting ready to run is truly a piece of cake and involves no surprises.
In the Professor's Lab
(The Professor was unavailable.)
Testing
I was anxious to see how fast & agile the truck could be, so I put it in speed gear and immediately hit turbo on a rough asphalt surface. For a monster truck, it moved pretty well! Top speed was just a hair under 10mph, which means if it was full-size it'd be doing almost 100mph. I was actually able to get a little bit of drifting action out of it, and at any time I could whip a 180-degree turn by just tapping reverse & turning from top speed. Serious fun! Just for reference, the normal (non-turbo) speed in speed gearing is 8mph.
Eventually I switched to the power gear and went completely off-road to a rough dirt trail with an incline. Maximum speed at the power setting is 7mph in turbo and about 6.2mph at normal speed. I was able to go over many obstacles thanks to the soft suspension & big tires, and even without 4WD, I almost never got stuck. It made it uphill slowly, but steadily and never stopped.
Conclusion
This new truck platform is great. The light weight, selectable gears and supple suspension make it versatile and capable, topping off a tough, but clean look. The fact that it includes everything you need to run is a real convenience, too. All I could ask for would be even more speed if it was possible, but overall, Nikko has a winner here.