Nikko Pro Class (Evolution) Lamborghini Murcielago
June 2006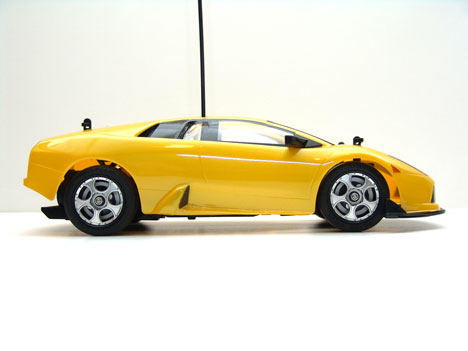 Street Price: $59.99 US
Manufacturer: Nikko
Mfgr's recommended min. age: 8
Our recommended age range: 8-15
Primary use: Outdoors
Top speed: 12.8mph as tested
Radio: 27mhz, changeable (6 channels available)
Includes:
Fully assembled car
Transmitter
9.6V rechargeable 600mah NiCd battery
4-hour wall charger
9V battery for the transmitter
Instructions
Extra decals
Requires:
Initial Impressions
Nikko pulled out all the stops with this one. The car looks just like the real Lamborghini Murcielago. They even got the wheels right, and then wrapped them with real rubber racing slicks! The one single thing that worried me was the body, which is made of very thin plastic. It felt thinner than a note card and I was worried about breaking or crinkling it up.
Preparing to Drive
The term "batteries not included" doesn't apply here -- this car comes with a 9.6V NiCd battery and a small charger, and even a 9V battery for the transmitter! The charger is interesting -- it doesn't have a cord. You plug it into your outlet, and then plug the battery directly into it. Simple enough! Charging takes only 4 hours, so I had to resist the temptation to hook it up overnight. When it was time to put the battery in the car, I got my next pleasant surprise. Most RCs I've tried make you use a small Phillips-head screwdriver to open the battery compartment. On the Nikko Pro Class cars, there's an easy latch you turn and then the compartment door slides & opens, no tools needed.
Testing
Out to the a parking I went on what was shaping up to be the hottest day of the year and I didn't have any sunblock -- I was sure hoping this would be worth it, and well, I wasn't let down. The car is fast! I clocked it at 12.8mph in my speed trap, which is really good for a 1/14th scale car. Handling was excellent, too -- the racing slicks really hook up on asphalt and there's proportional steering and speed that gives a level of control like I've only seen on expensive hobby-level cars. There's enough power to do a little powersliding (driting) and it can do real donuts! I love this car! Even with all of that speed and power, it still went about 15 minutes on one battery charge. Good deal!
Video
(Click a video a second time to view it larger in a new window.)
In the Professor's Lab
Hrmph. "Pro class." What is this "pro class" you speak of, ehh? This car was most inexpensive -- it cannot be "pro class." Let me have a look it…
Wait, is this the right car? Are we sure Nikko made this? This body, it is polycarbonate, often called "Lexan." It is the material used to make bullet-proof windows! Though it is thin, it is very durable. It is painted on the inside so that if the body gets scratched, the paint is untouched. Only decals (for details such as headlights and window trim) are applied to the outside.
The chassis, it is a good design. There is independent spring suspension in the front, and a "live axle" in the back. The motor and battery are mounted near to the ground, giving the a low center of gravity. This is most important for agile and consistent handling on the street!
If there is anything that truuuuuuly impresses me about this car, it is the radio system. Quite a many cars today have proportional steering, but this one has proportional speed control as well! This is most excellent! You can finely control your speed to get just the right velocity to make perrrrfect turns! Most excellent indeed! And I...
Conclusion
Looks like the Professor is having a lil' trouble containing his enthusiasm there. I've got more RCs to test, though, so I've gotta wrap this up.
So let's see, the Nikko Pro Class Murcielago looks great, handles great, goes fast (and there's an upgrade "Sprint" motor available for even more speed), and comes with everything you need to run. Now that's what I call a slam dunk. At a street price of $59.99, the Nikko Pro Class vehicles are a solid value. If you're interested in buying one, be sure to also check out the Ford GT, Saleen S7, and Mitsubishi Evolution versions!