Fast and the Furious Mazda Veilside RX7 1/22nd scale
September 2007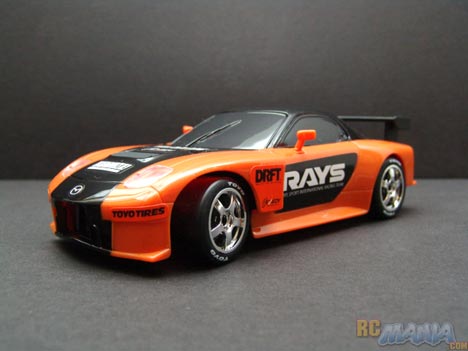 Street Price: $14.99 US
Manufacturer: Nikko
Mfgr's recommended min. age: 6+
Our recommended age range: 6-12
Primary use: Indoor
Top speed: 4.4mph
Radio: 27mhz
Includes:
Assembled car
Antenna tubes
Transmitter
Requires:
One 9V battery for the transmitter
3 AA batteries for the car
Initial Impressions
This was my favorite car from the movie "The Fast and the Furious: Tokyo Drift," so I was excited to see an RC version that was very inexpensive. In this case, the small price also brings you a small vehicle, about 7" long. Detailing of the body is pretty good and the wheels look great. I like that it includes a set of hard slick drifting tires for free, though I had my doubts over whether I'd really be able to drift with such a cheap and small car.
One thing I don't really like is the controller. It has a hard plastic knob for steering, and below that are separate buttons for forward & reverse. It's a bit unusual and doesn't feel right in my hands.
Preparing to Drive
There's no preparation involved other than putting batteries in, unless you want to change tires immediately.
Testing
With regular tires, the car drove predictably. Speed is decent at 4.4mph, but not outstanding for the size of the car. Steering isn't bad, but I wish it could turn just a little bit sharper at speed. Slowing down in turns helps. The longer I drove, the more awkward the controller became. I actually started to develop an ache in my thumb from pushing the forward/reverse buttons, which are a little tougher than I'd like.
Next I switched to the drifting tires. Removing the standard tires was easy, but the drift tires were a bit hard to put on because they fit snugly, yet they're hard. You have to pay a lot of attention all around the wheel to make sure each tire is on all the way so it won't wobble while you drive. On the kitchen floor, though, I was able to getsome drift-like action. I say "drift-like" because it's more like pulling e-brake turns -- 90 and 180 degree fishtailing snap turns -- than actual sustained drifting like you saw in the movie. It's still fun, though, and a challenge to hit a turn fast and get right back on the throttle immediately so it'll powerslide through it. Most of the time it helps to tap the reverse button briefly as you enter a turn. The longer of a split second you hold it down for, the more you'll spin.
Video
(Click a video a second time to view it larger in a new window.)
In the Professor's Lab
I noticed something very familiar about this car when I was examining it in the lab, so I looked through my notes and photo archives to investigate. I knew it! Very familiar, indeed! I went to the storeroom and what was I able to find? A Pro Class ("Evolution") car from Nikko, specifically a Mini Cooper. If the review of that car is not online by the time you read this, it will be soon! In any case, the Pro Class car includes two sets of tires, one the same as comes with this Mazda RX7, and one set of super-soft slick tires for racing. Better still, it includes an extra rear axle assembly with a faster, "Sprint" motor! Do you know what I did? Of course! I put the faster motor from the Mini Cooper into this RX7, but kept the drift tires on! This is better, better! Yes! Top speed is actually not increased tremendously much, but acceleration is significantly improved, and the car can drift much farther! With this secret upgrade, I can easily win races against other similar cars! We must take a new video with this upgraded motor...
Conclusion
Not bad for $15, but not outstanding either. I do like being able to change the tires, and the Prof's discovery of interchangable parts from the Pro Class cars is excellent. The car looks good and performs decently. The downside is, again, the funky controller. If you really like the car from the movie and want an RC version, by all means, get one! If you have a finer taste for performance & handling, though, you might want to look at a Radio Shack XMOD car, or perhaps something just a little larger.