New Bright Peterbilt 387 1/12th scale
August 2006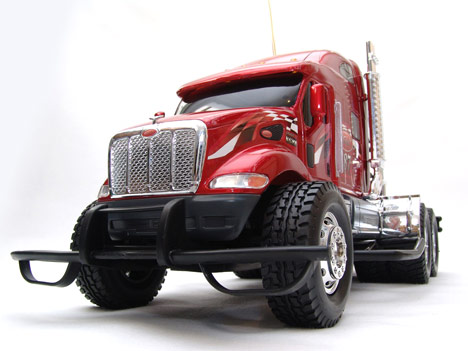 Street Price: $49.99 US
Manufacturer: New Bright
Mfgr's recommended min. age: 8
Our recommended age range: 8-12
Primary use: Outdoors
Top speed: 7.5mph
Radio: 49mhz (red) or 27mhz (black)
Includes:
Assembled truck
9.6V battery
Wall charger
Two AA's for transmitter
Two antenna tubes
Transmitter
Instruction manual
Requires:
Initial Impressions
Good-performing RC semi trucks are hard to find, but this looks like a winner from the outside. It seems pretty tough with oversized bumpers and a huge roll cage, yet it's still pretty lightweight. It has semi-pneumatic rubber tires that are wide and soft. The truck has nice detail, including real chrome wheels and accents and candy-apple paint. The included battery is New Bright specific, but there is also an industry-standard standard "Tamiya" plug that lets you run normal 9.6V rechargeable packs.
Preparing to Drive
Nuthin' special here. Install the antenna tube & tie off the top, screw in the transmitter antenna, and charge the battery (eight long hours the first time). Ready to roll.
Testing
Interestingly, only the rearmost wheels are driven on this truck, but the undriven rear axle can tilt from side to side to help the truck get over bumps in the terrain. The truck can climb about a 25 degree incline, which isn't too shabby. Steering is very crisp and responsive. The speed selector on the transmitter lets you go slow to do tight maneuvers, or really open it up in long straightaways. This definitely drives like a racing rig! It's more of a street truck than an offroader, though, as its tires aren't too big and it doesn't have spring-loaded suspension.
Video
(Click a video a second time to view it larger in a new window.)
Conclusion
I like this truck – its speed and handling are good. If you want an RC big rig that's geared more towards handling rather than realism & hauling, this is definitely a truck to consider.