New Bright Hummer H3
April 2007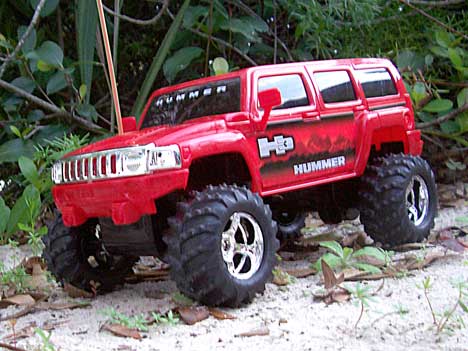 Street Price: $24.99 US
Manufacturer: New Bright
Mfgr's recommended min. age: 4+
Our recommended age range: 4+
Primary use: Indoor or outdoors
Top speed: 3.4mph
Radio: 49mhz (red) or 27mhz (black)
Includes:
Assembled truck
Antenna tubes
Transmitter
Requires:
4 AA batteries for the truck
2 AA's for the transmitter
Initial Impressions
From far away for some reason this truck looks a lot like a Jeep, but as you get closer you see it is the new Hummer H3, souped up with monster truck style tires and chrome wheels.
Preparing to Drive
All that is needed to drive is 6 AA's - 2 for the transmitter and 4 for the truck. Installing is easy because the battery compartment opens with a latch. After you get the batteries in the final step is to install the antenna tube. I didn't like that the hole for the end of the tube is a bit bigger than the antenna tube so it isn't a snug fit, but this doesn't pose a big problem.
In the Professor's Lab
(The Professor wasn't interested in this vehicle for some reason.)
Testing
Sure I could walk faster than this truck, but it's made for young kids. The speed is just right for them. The controller is a bit small for an adult's hands but it fits perfectly into young kids hands!
All told, this is a fun truck. It's slow and predictable enough to drive indoors, so it's a perfect tool for harassing brothers and sisters (although we don't support it). Driving outside is just as fun. The transmitter has decent range for driving around a driveway.
I found after driving the car off of a few little drops that the battery compartment opens easily. So it's good to stay away from jumps and a lot with this truck unless you put a piece of electrical tape over the battery door.
In the dirt the truck didn't do so well. After driving it in some dirt I found the truck doesn't even have enough torque to get over most bumps, and it slows down a lot if it has to go uphill at all. So, the only dirt that would be good for it is if the dirt is very flat and hard-packed.
Video
(Click a video a second time to view it larger in a new window.)
Conclusion
This is a nice little truck that is great for most young kids as their first RC car. It's not great for off-road driving but handles carpet, paved surfaces, and relatively smooth, hard dirt nicely. For $24.99, it's a pretty good deal.