Hot Wheels Fury FTX by Tyco / Mattel
June 2006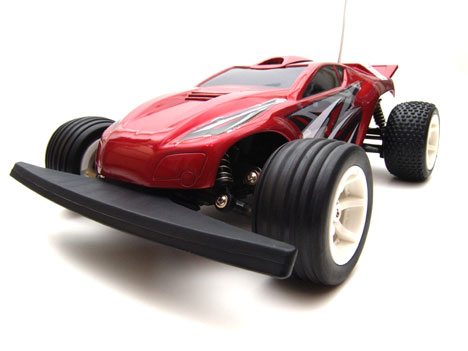 Street Price: $44.99 US
Manufacturer: Tyco
Mfgr's recommended min. age: 8
Our recommended age range: none (read on)
Primary use: Indoor or outdoors
Top speed: not tested
Radio: 49mhz (blue) or 27mhz (red)
Includes:
Assembled truck
Transmitter
Instruction manual
Requires:
2 AA batteries for the transmitter
Six AA batteries for the truck OR one 9.6V standard flat battery pack and charger
Small phillips-head screwdriver for battery doors
Initial Impressions
Wow. This truck looks hot. It's low & aerodynamic and has an aggressive stance -- like a real pro RC! Everything about it says "stand back and drive me!"
Preparing to Drive
Thankfully, it took almost no time to get my Fury FTX ready to drive. All I had to do was insert the plastic antenna tube straight through a hole in the roof, insert my batteries & go! But that's when the Professor showed up...
In the Professor's Lab
Brilliant, simply brilliant! Hot Wheels has used design ideas from the popular hobby-level RC from Team Losi called the Mini-T, only they've made it cost far, far less! The Mini-T is $150 US, and needs a special battery and charger!
Let us see here, up front we have long-arm independent spring suspension. On the back, there are again two springs, and instead of the normal configuration where both rear wheels go up or down at the same time, the entire axle and transmission rotates from side to side, for somewhat of a, shall we say, semi-independent action.
The tires, ooohh the tires! They are made from soft rubber, very sticky, veeeerrry sticky! They use a ribbed design up front for better turning, and a mini-spike tread on the back for better traction in dirt. This truck should handle marvelously!
Testing
The truck wasn't getting anywhere on the lab bench, so I took it back and went out to a dirt lot for some real action. That's when the disappointments began. The truck was very slow and bounced around like it was riding on pogo sticks. I guess the rear springs are way too stiff. As I limped it around, it kept getting stuck on rocks that weren't that big, and I couldn't get it unstuck without walking over & picking it up. It also got stuck easily in areas with fine, dry dirt.
Steering was really weak -- the truck is less than a foot long, but it took about 6 feet to make it turn all the way around on the dirt. And did I mention that the truck was really slow? I took it out onto the street to give it some smoother ground to try and after a long straight run it still didn't go very fast and it took even longer to turn around. I tried jumping it off of a curb and when it landed, it bounced so badly that I couldn't control it for a couple seconds! Even if I was racing another truck that was the same speed, I'd lose because of the bouncy springs!
The AA batteries in the truck ran out after less than 15 minutes, but I wasn't ready to give up just yet. They say the FTX is faster with a 9.6-volt battery and luckily I had one from a Nikko car I was testing. This made the top speed on the street pretty decent. Back on the dry dirt, though, now it had so much power that it couldn't get any traction! It just kept spinning out, and the only way I could get it to go "straight" was by quickly counter-steering back & forth each time it tried to spin. I guess you could call it "drifting," but it felt more like a panicky zig-zag.
Video
(Click a video a second time to view it larger in a new window.)
Conclusion
What a let down. I really liked the look of the Fury FTX and even the Professor was impressed by its design. When it came to driving it, though, everything fell apart. It's slow, turns poorly, bounces a lot, gets stuck easily, eats batteries fast... so sad! Sorry Hot Wheels, I love your die cast cars, but the Fury FTX is a major disappointment.