Hot Wheels Flash Fire buggy by Tyco
July 2007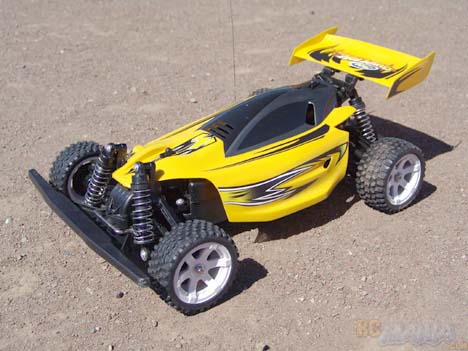 Street Price: $69.99 US
Manufacturer: Tyco
Mfgr's recommended min. age: 8
Our recommended age range: 8-12
Primary use: Outdoors
Top speed: 15.5 mph
Radio: 49mhz (yellow) or 27mhz (purple)
Includes:
Assembled buggy
Transmitter
Instruction manual
Requires:
4 AA batteries for the transmitter
Tyco-exclusive 7.2V Pro Flex Pack battery & charger
Initial Impressions
This is going to be a treat. The Flash Fire has to be the most sophisticated toy-class RC car I've seen in many years. Check out some of these features:
Super-low center of gravity
7.2V high-amperage power system
Single-motor, full-time 4WD with shaft drive
Four wheel independent spring suspension
Semi-pneumatic, soft rubber off-road tires
Lightweight body
Adjustable rear wing (they call it an "air brake")
What I don't like, however, is that you can't use any normal rechargable battery in this buggy. The battery compartment is rectangular and only takes Tyco's exclusive 7.2V Pro Flex Pack system. Unless you already have one of the very few RCs Tyco uses this battery in, you're going to have to shell out a bunch more money just to get running. The car doesn't take alkaline batteries at all.
It sure looks cool, though.
Preparing to Drive
The Flash Fire comes fully assembled, so once you get a Pro Flex Pack battery & charge it up, and add 4 AA's for the transmitter, you're really ready to drive.
Testing
I first took the buggy out to an empty parking lot to see how fast it could go and how well it would handle on the street. It's fast! At 15.5mph, it's the fastest off-road vehicle we've tested to date. It handled well, too, with responsive steering and good grip from those soft tires. Looking good.
Most of my testing would be on dirt, where the Flash Fire belongs. Though it was not as fast off-road, it again handled very well. Thanks to the 4WD, it never spun out and I was able to handle bumpy terrain. With the low-slung chassis designed for optimal performance, it did get stuck on some really big ruts & such, but this is a racing buggy, not a monster truck, so I'm not at all surprised or disappointed.
I do really wish the car was faster on dirt, though, because I wanted to try some big jumps, but it couldn't get too far up in the air. The battery lasted for between 10 & 15 minutes of flat-out hardcore driving over dirt and short grass. I had some crashes when I was driving very aggressively, and nothing broke. The body is resilient, and the bumpers do their job. At the end of my run, though, I did notice a lot of dirt and bits of grass in the axles, and I was worried that the ends of the driveshafts could get worn down or even lock up if debris continued to pile up in there. It's probably a good idea to use an old toothbrush to clean up the moving parts as best you can after a hard drive. You can remove the wheels with a small metric socket wrench, and that helps give you room to get to some of the more important areas to clean.
Video
(Click a video a second time to view it larger in a new window.)
Conclusion
All of this technology & power comes at a price. When it was first released, the Flash Fire cost $89.99 US. Many places now have it for under $70, but the catch is, you still have to buy the Pro Flex Pack system, which can cost up to $30. That makes this a $100 car! I can't help but feel that the price is a bit steep and the inability to reuse the battery either from or for another car forces me to deduct some points. For $100, I'd at least expect something with exchangable or upgradable parts like tires, gears, or shocks -- something semi-pro.
The Flash Fire is a capable vehicle, fast and fun, just a little on the expensive side.