Fast Lane B-Furious Buggy
September 2007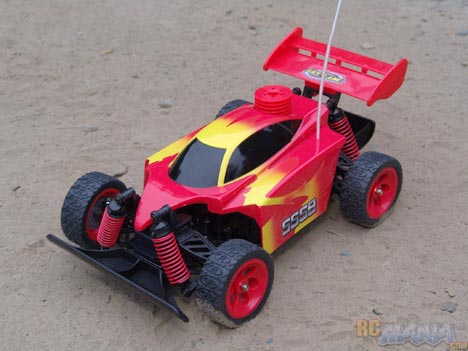 Street Price: $39.99 US
Manufacturer: Fast Lane RC
Mfgr's recommended min. age: 8+
Our recommended age range: 8+
Primary use: Indoor or outdoors
Top speed: approx. 7mph
Radio: 49mhz
Includes:
Buggy chassis & body
Truck body
Two full sets of wheels
Two full sets of tires
Wheel nut wrench
Transmitter
Antenna tube
Requires:
6 AA batteries for the car
One 9V battery for the transmitter
Initial Impressions
What immediately caught my attention with this set in the store is that for the price of one vehicle, you basically get two. It includes a whole second body with a completely different style, plus an extra set of wheels, and an extra set of tires! Here are the two setups you can switch between:
As you can see, they look entirely different, which I really appreciate because sometimes you get bored with the way one RC looks, but this way you don't need to buy a new one, you just modify it. You can even mix & match the wheels & tires.
Going beyond the looks, the car has full-time 4WD (four wheel drive) which is awesome for the price, plus four wheel independent spring suspension in a high-performance and sturdy "double wishbone" design. I only wish it used a rechargable battery pack, but you can just use rechargable AA batteries for more longevity.
Preparing to Drive
The set comes pre-configured as the buggy, so if that's how you want to start out, all you need to do is install the batteries and put the antenna tube on. If you really prefer the truck version, though, you can snap off the wing, then unscrew the engine piece (the ribbed red cylinder is supposed to look like a gas-powered RC's engine head), pull off the body, put on the truck body, then screw the engine piece back in. To change wheels, there's one nut to remove on each, and the included lug wrench makes that easy. To change tires, you just pull off the ones you don't want and slip on the new ones.
Testing
Acceleration is pretty decent, but speed is a little lacking. Steering is very strong and consistent thanks to the 4WD. The suspension works well over gravel and the car/truck can go through pretty soft dirt. I tried both tire types on the street, on gravel, and on dirt, but honestly couldn't tell the difference in performance between them. I tried taking some small jumps, but the car is not fast enough to get any real air. It also really suffers in speed anytime you try to go uphill with it.
Conclusion
The B-Furious is a nice concept, with customizability and pretty good features (4WD, independent suspension). However, it's pretty underpowered and the use of AA batteries has you needing new ones every 20 to 30 minutes. If you think you've got to get it because it looks cool, I won't tell you not to, but otherwise, it's not hard to pass this car up.