RPMZ RC
March 2010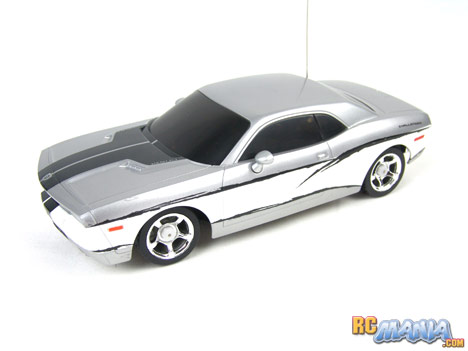 Street Price: $39.99 US
Manufacturer: Revell
Mfgr's recommended min. age: 12
Our recommended age range: none
Primary use: Indoors
Top speed: Varies with setup
Radio: 27mhz
Includes:
Assembled car
Extra tire set
Extra motor
Spare screws, gears, & suspension parts
Track cones & corner dots
Controller
Instructions
Requires:
Initial Impressions
Revell's RPMz series of 1/24th scale mini RC cars have been on the market for quite a long time, but I always felt they were way too expensive for their size at nearly $100 each, not including batteries. Recently though, they've really come down in price, so I decided it was finally time to give one a try. These are marketed as a step up from normal toy-class RCs, equalling something between the older XMODS Evolution cars from Radio Shack, and the more expensive and purely hobby-grade Kyosho Mini-Z cars. When you first open the box, you can see why.
| | | |
| --- | --- | --- |
| | | |
Wow. This is serious. Under that car body is the fully-assembled and driveable chassis. All of the other stuff is extras. You can change the motor, gear ratios, springs, and tires yourself. In fact, the entire car can be disassembled by the owner, and there's an "exploded view" sheet included in the box to show you where every single part goes. It's a lot of parts! To be honest, I was pretty much overwhelmed, so before I got into reading about all of the tuning & upgrade settings, I wanted to just try the car out as it came.
Preparing to Drive
It takes 12 AA batteries to get this thing going. Eight go in the controller alone, and four in the car (2 on each side for balance). If you want to make anything rechargable, you have to buy your own rechargable AA batteries and a separate charger.
Testing
After turning the radio & car on for the first time, I immediately set the throttle and steering trims using the handy and convenient controls on the transmitter. This couldn't have been easier. With a light pull of the trigger, the fully digital proportional throttle brings the car alive controllably, though there immediately seemed to be a little bit of radio glitching. Then, I went to turn. Nothing happened. Left. Right. Nothing. The car would go straight, it would go in reverse, and heck, even the steering trim would work, but turning the actual steering knob on the controller was pointless. I did everything I could to diagnose the problem, but had to resign to the idea that the controller itself was faulty.
Out of thousands of vehicles that are manufactured in a given production run, there's always a slight chance that an annoying defect will slip through and bite an unlucky customer. Thankfully Revell puts a toll-free customer support number on the instruction manual, so I just gave them a ring. There was only an automated response and an invitation to leave a message with a number for them to call me back at. I left my number & briefly described the problem. I got no call back. I tried again. Still no call back after almost a week passed. Next up, I called the place where I bought the car. They replaced the entire car for me for free. They didn't even ask me to return the original, which really struck me as odd.
Anyhow, on to car number two. This one looked identical, and when I got it turned on, steering worked! However, this one I could not to stop going forward. I tried moving the throttle trim all the way back, and even then, with the trigger pushed all the way into full reverse, the car would still move forward with speed. Another defective controller, confirmed by trying different combinations between my two controllers & cars. How miserable.
I went ahead & tried driving anyhow, and found the car to handle pretty nicely. The fully proportional steering gives nice control, and the soft rubber tires have a fair amount of grip. I did continue to experience some radio "glitching" (momentary loss of control) though. I did not bother trying the different tuning settings.
Conclusion
Fool me once, shame on you. Fool me twice, shame on me. Getting two identical products in a row that were both defective is unacceptable, as is not being able to reach customer service, especially when a 1-800 number and an invitation to call it is included with the product. I have seen a few videos online of people whose Revell RPMz do work just fine, but I've also seen customer reviews indicating defective sets like I received. To me it feels like a dice roll, and the small reward of getting a working model is not worth the high risk of getting a broken one.