Pro Dirt Ultra Lite RC
June 2011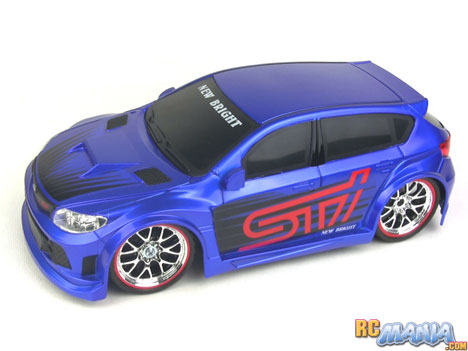 Street Price: $29.99 US
Manufacturer: New Bright
Mfgr's recommended min. age: 6
Our recommended age range: 6-8
Primary use: Indoor or outdoor
Top speed: Approx. 3mph
Radio: 925 MHz!
Includes:
Assembled vehicle
Controller
Instructions
Requires:
Initial Impressions
With touch-screen technology so popular in smart phones, music players and other devices these days, it's interesting to see New Bright bringing the concept of touch screen control to the toy-grade RC market with the RC Touch series of cars. The car itself is pretty normal, around 1/16th scale with good details, lots of graphics and a metallic paint scheme. The interesting thing is the controller, which is thinner than most smart phones and has a smooth, glossy surface with no protruding buttons or control sticks. To make the car go or turn, you just lightly touch the corresponding arrow on the controller. The controls also light up, adding a little extra excitement into the mix. One other thing that's very interesting with the controller is that you never add batteries to it. It has an internal rechargable battery that you actually charge by plugging the controller into the car! The charge port is on the back bumper, and New Bright says that 30 minutes of charging the controller will let you run the controller for 4 hours. Unfortunately the AA batteries you have to put in the car won't last nearly that long, and those do need to be replaced.
Testing
The New Bright RC Touch car felt a little slow in testing, but it wasn't too bad. Overall its performance and the excitement of watching it drive around was at the low end of what I'd consider acceptable for the age range it's made for. The real story was again the controller. Because there is nothing to really feel with your fingers, I found myself having to look down at the controller a lot to make sure my fingers were lined up right, and after driving for awhile I'd find that my fingers had sort of migrated away from the "sweet spots" again. Truthfully, the controller isn't an actual touch screen, it just simulates the look & feel of one, and if you feel carefully enough you'll notice that under the glossy surface there are some mechanical switches or buttons. Still didn't feel natural, though.
Also pretty weird and unsettling was that one or two of the direction controls would seem to get stuck at random. For instance, in the testing video below, you'll see a few times where the vehicle will go in reverse or go in reverse and turn. All of those times were when I had taken my fingers off the controls altogether. It just seems like the controller is sensitive and finicky in an unpredictable way.
Video
(Click a video a second time to view it larger in a new window.)
Conclusion
This New Bright RC Touch car feels like an interesting use of technology, and the performance of the car itself is passable. The whole unique touch screen controller, though, just doesn't work out well in practice. Cool idea, poor execution. It can actually be more frustrating to drive than it is fun. Not a terrible product, but not one that is likely to get used for long before the novelty wears off.