RC Wolf Pro
December 2012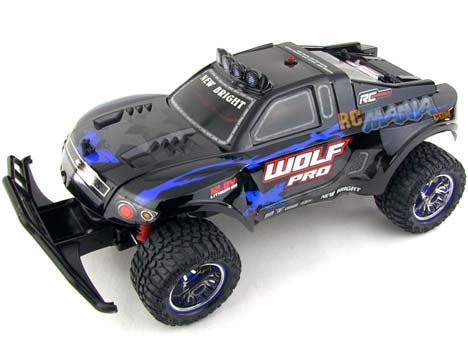 Street Price: $69.99 US
Manufacturer: New Bright
Mfgr's recommended min. age: 8+
Our recommended age range: n/a
Primary use: Outdoors
Top speed: ~9mph
Runtime per charge: ~15 mins
Controller: Quad-band radio
Includes:
Assembled RC truck
Controller
12.8V lithium ion battery pack
Controller batteries
Instructions
Requires:
Overview
I'm going to save you a lot of unnecessary reading here and simply restate my earlier note that the New Bright RC Wolf Pro is the exact same core vehicle as the Scorpion Pro I previously reviewed, just with a different body and tires. This series of vehicles which also includes a buggy called the Sabre have made an attempt to push the whole toy-grade RC car & truck forward in technology and fun factor with new engineering and new technology. Time to see, again, how that effort panned out...
Test & Review Video
Conclusion
As noted in the video, this test did not go as I expected it to. In some ways it was even worse. Again I will repeat, same vehicle, different body and tires. Same strengths, same great new tech, same crippling problems (plus more of one). I long for a day when updated versions of these trucks hit store shelves and I'm able to release new reviews with high marks across the board. Until then, the New Bright Wolf Pro will sit unceremoniously adjacent to its brother in RC Malarkey.