Pro Dirt Rat
February 2012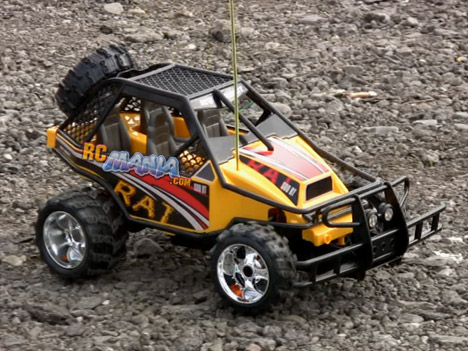 Street Price: $34.99 US
Manufacturer: New Bright
Mfgr's recommended min. age: 8
Our recommended age range: none
Primary use: Failure
Top speed: n/a
Radio: 27mhz
Includes:
Assembled vehicle
Controller
Requires:
5x AA batteries for the car
2x AA batteries for the controller
Overview
The Rat is from New Bright's Pro Dirt RC car line and given its fairly low price for its size, I didn't have very high expectations for its performance. I did, however, expect to get roughly what I paid for. After taking it out of the package and noticing it had the same motor & transmission as the horrible Interceptor & Velocity buggies I've previously tested, I feared I was in for another huge disappointment.
Test & Review Video
Conclusion
The New Bright RC Pro Dirt Rat is just another member of the RC Malarkey family. Somehow the mostly-reused failure of a chassis platform seemed to slightly out-perform its predecessors, but the abysmal radio range wipes out this minor advantage, and then some. This car is a real shame!