New Bright RC Fountain Boat
August 2011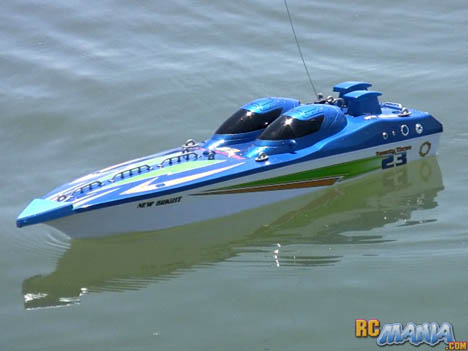 Street Price: $62.99 US
Manufacturer: New Bright
Mfgr's recommended min. age: 8
Our recommended age range: 6-9
Primary use: Small pools
Top speed: n/a
Radio: 27mhz
Includes:
Assembled boat
Controller
Rechargable 9.6V battery
Wall charger
2x AA controller batteries
2x spare propellers
Instructions
Requires:
Initial Impressions
New Bright's Fountain is a 23 inch long speed boat with great offshore racing styling. It comes with all batteries included, with a rechargeable pack for the boat itself, so there's no extra cost to get it running, and no purchase of new batteries every day it gets used. The boat looks great and has some very nice details including working locks for the removable deck (the entire top of the boat) that look like "cleats" -- metal do-dads that you tie rope to, like when connecting a boat to a dock so it doesn't float away. There's a soft rubbery bumper-like cover over the front of the boat, so you're using it in a pool and it hits someone head-on, it won't poke them sharply. Interestingly the propeller also has soft edges all around it
With the top removed, the New Bright Fountain suddenly looks and feels a bit cheap & flimsy. The plastic that the hull is made of is very thin and fairly flexible. The good thing is that it's very light in weight, so the boat doesn't displace a lot of water that would have slowed it down. Inside, you see the motor, propeller shaft, and battery tray. All of the electronics are sealed up tightly in a waterproof compartment at the back that's not designed to be opened.
Testing
I tested the New Bright Fountain boat in open waters to give it plenty of room to go as fast as it could, and I had the good fortune of picking a day that was very calm, so the water was pretty flat and still. The boat was much slower than I expected with its long, sleek, light design. It's not unbearably slow, and probably appropriate for many common sizes of private pools in the back yards of single-family homes. Radio range for me was about 30 feet. Again, not great, but plenty to reach across a pool, and most of the way lengthwise even if you stand at the opposite end. If you stand anywhere near the middle of the long side of a pool, you'll have more than enough range for even larger sizes. It probably won't make it out to the edges of even the smallest competition-style pools, though. Turning is pretty sluggish, too, to the right at least. To the left it spins in a pretty small circle, but to the right it takes its merry time.
Video
(Click a video a second time to view it larger in a new window.)
Conclusion
The performance of New Bright's Fountain is pretty underwhelming by the standards of an adult, teen, or adolescent. However, I think this boat has its place, and does some things extremely well. For a younger operator, the modest speed helps to keep it from being damaged. More importantly, the safety features built into this boat help to keep it from causing damage to people and things alike. I think these factorrs, combined with the inclusion of all required batteries, with a rechargeable main battery pack for the boat, to boot, make the New Bright Fountain a purchase worthy of consideration for use by a younger age group in a private pool. If you're looking for something really speedy and exciting to drive around a larger area, then you'll probably want to look elsewhere.