World of Wheels Cybercycle
September 2013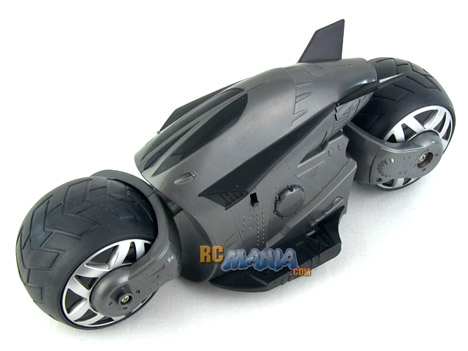 Street Price: $30 US
Manufacturer: Kid Galaxy
Mfr's recommended min. age: 5+
Our recommended age range: 4-8
Primary use: Outdoor flat surfaces
Runtime per charge: 20-30mins
Controller: 27mhz
Includes:
Assembled bike
Controller
Instructions
Requires:
5x AA batteries
1x 9V battery
Initial Impressions
I've had very good luck with Kid Galaxy series products in the past, but I've had really mixed fortunes with RC motorcycles. Some are very nice. Some are absolutely horrible. The main things that tend to ruin toy two-wheelers are stability (spelled: falling over) and turning, or the lack thereof. The Kid Galaxy Cybercycle has a very interesting two-wheel-steering setup that you'll see in the video, and I sincerely hoped from the start that this would help the thing to take less than the length of a football field to do a full circle.
The bike has a very original, futuristic appearance, and I especially appreciate the wide, treaded tires. The whole thing also feels well-made. With batteries installed, it's heavy for its size, and it doesn't have any thin or flimsy parts that seem like they'll easily break off with rough handling. It feels like an unusually high-quality product for this day & age. Let's see how it performs!
Test & Review Video
Conclusion
Not too bad. The speed and responsiveness seems to match what's appropriate for younger kids, and the bike looks as good driving around at a distance as it does sitting up close. As you saw in the video, the turning radius did end up being a bit large, but it wasn't too bad. Be mindful of the space that it needs to run, and plan your purchase (or non-purchase) accordingly!
PS: This review was not sponsored or endorsed in any way by the manufacturer. I purchased this product at retail, as a regular consumer, at my own discression.