MXS RC Stunt Bike
October 2010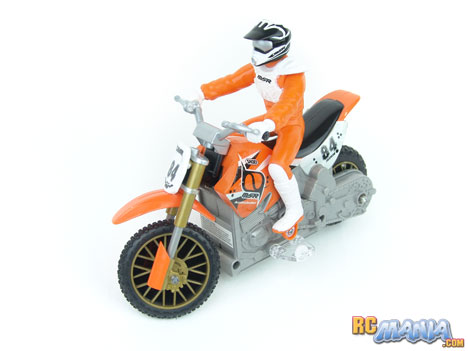 Street Price: $24.99 US
Manufacturer: Jakks Pacific
Mfgr's recommended min. age: 5
Our recommended age range: 5-7
Primary use: Outdoors
Top speed: n/a
Radio: 49mhz
Includes:
Assembled vehicle
Controller
Instructions
Requires:
4x AA batteries for the bike
9V battery for the controller
Initial Impressions
There aren't a lot of radio controlled motorcycles made these days, so when I see one show up on the market, I get excited & hopeful that it'll at least be something good. The MXS Stunt Bike from Jakks Pacific certainly at least looks exciting with its bright colors, officially-licensed graphics, and a motocross rider figure. The transmitter has an interesting design, with a curvy game controller style and a numbered helmet visor feature on the side that faces away from the user. The package indicates that the bike has "gyro technology," is "self balancing" and will perform "spin outs" and "jumps." Sounds good!
Testing
I first wanted to check out how the MXS Stunt Buke would perform under basic riding conditions, putting around on flat ground. I followed the instructions on how to start the bike, holding the rear tire in the air while giving it throttle to bring the wheel up to speed, and then letting it go. It balanced itself and drove off just fine, but I didn't notice the sound or feeling of a gyroscopic stabilizer (fast-spinning flywheel). It seems this thing actually has no "gyro technology." In turns, the bike just leans over onto one of the permanently-attached training wheels on the sides and drags that along the ground until you straighten up. Speaking of turns, at speed, even on a perfectly flat & smooth surface, the turning radius is very large. To turn more sharply, you have to let off the throttle to slow way down and then just pulsate the throttle control to keep the bike going slow. It will not perform "spin outs." I tried going over a small impromptu ramp and the bike just fell and crashed violently. On many attempts it wouldn't even make it up the ramp, much less over it. Forget about the landing. It does not do "jumps." Also, it cannot be driven off-road as it just gets stuck leaning to one side or the other, trying to drag a training wheel through the dirt.
Video
(Click a video a second time to view it larger in a new window.)
Conclusion
When I look at the MXS Stunt Bike's box, and then I think about the experience of actually driving the bike around, what comes to mind is, "Are you serious??" There are simple claims made by the manufacturer, and they're simply false. That's completely unacceptable. Even the name "Stunt Bike" is misleading, as the vehicle does no stunts whatsoever. It does drive around on flat ground decently, though you have to slow down for turns, so I can't give it an 'F' rating, but I refuse to give it much more. Straight into RC Malarkey this goes. Manufacturers, end your policies of false advertising, NOW!