Hot Wheels RC Stealth Rides Power Tread
September 2010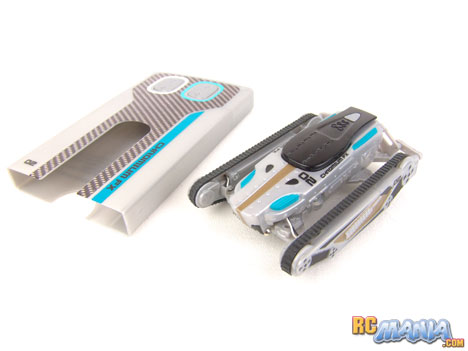 Street Price: $24.99 US
Manufacturer: Mattel
Mfgr's recommended min. age: 8
Our recommended age range: 7+
Primary use: Indoor
Top speed: n/a
Radio: Infrared
Includes:
Assembled car
Controller/charger/holder
3 spare batteries
Instructions
Requires:
Initial Impressions
The Hot Wheels RC Steath Rides Power Tread vehicles are available in two colors & styles, but both are innovative new micro-sized tanks with real working treads. Also, each folds up and completely fits into its controller, which is less than 1/2" thick. Do I have your attention yet? I didn't quite understand how it worked by looking at the vehicle in its package, myself, so let me dive right in and have a closer look.
(By the way, if tanks aren't your style, check out the Hot Wheels Stealth Rides Racing Car version.)
Testing
The Hot Wheels Stealth Rides Power Tread tank is ready to go right out of the box; all batteries are included and pre-installed. I was actually more interested in making it fold flat than drive around, though. It's trickier than I ever expected. You hold the tank between your thumb & index finger and squeeze the top & bottom together to make it transform. The roof collapses, then the entire upper half of the main hull compresses down to about half the original height. At the same time, the powered tread pods swing up to the sides. The end result is something that looks like a tank that's been stepped on, but if you just push a small, but easy-to-activate button on the rear portion of the roof, all of the folding undoes itself in the blink of an eye, and you're again ready to run. You'll see it in action in the video.
Driving the Stealth Rides Power Tread is ridiculously fun. Most RC land vehicles of this size ned to run on pretty smooth ground. Not the Stealth Rides Power Tread. Not only does it have a respectable amount of ground clearance in driving mode, but the rubber treads have a lot of power behind them, and are specially designed to get the vehicle over obstacles. I had no trouble climbing steep inclines or getting over CD & video game cases significantly larger than the tank itself. Every once in awhile if I went off an obstacle at an odd angle and slid sideways, one of the tank treads would fall partway off the rollers, but it was always very easy to put them back. This is surely no speed demon, but it more than makes up for that by being able to overcome terrain challenges that simply nothing else on the market can.
Video
(Click a video a second time to view it larger in a new window.)
Conclusion
The Hot Wheels RC Stealth Rides Power Tread tank is an amazing invention. If it was just a plain micro-sized tank but still drove like it does, I'd be completely happy with it. This whole additional dimension of being able to completely compact itself and fold up for storage inside the already small & flat controller simply blows my mind. The only downside is that both the controller and and the tank use "AG13" or "LR44" sized batteries. Each Hot Wheels Stealth Rides set comes with an extra set of 3 batteries for the vehicle, but that doesn't change the fact that this size of battery isn't one of the normal, common ones. They're seen in some watches, keychain flashlights, and other odd, small devices. Fortunately since they are used in other things, you can find them anywhere watch batteries or other specialized cells are sold, and they're also really cheap (for example, here's a place you can get 50 batteries for $8).
For much more play time per battery, you can spend a little more on fancy silver oxide "SR44" batteries
, then you will be able to drive a lot longer before opening up the tank to change out dead cells.
If you like this vehicle, but think you might like just a more normal-looking car that's the same size, but still folds flat the same way, see the Hot Wheels RC Stealth Rides Racing Car review!