Giant 1/12th scale RC airsoft tank
June 2012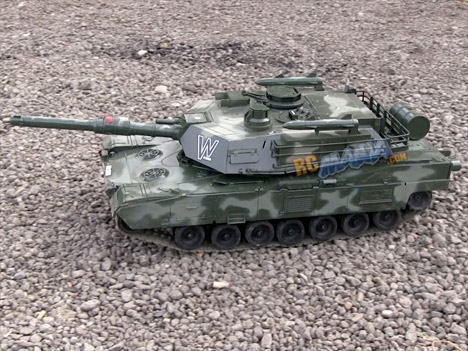 Street Price: $64.99 US + shipping
Manufacturer: Unknown
Mfgr's recommended min. age: 12+
Our recommended age range: 9-12
Primary use: Outdoors
Top speed: n/a
Runtime per charge: Varies, ~30 mins.
Controller: 27mhz AM
Includes:
Tank
Optional missile, gunner accessories
Controller
Rechargeable battery
Charger
Controller battery
Small bag of plastic airsoft BBs
Instructions
Requires:
Overview
On eBay & Amazon.com you can easily find many sellers offering up a "Giant" 1/12th scale or 32" long RC tank that shoots plastic airsoft BBs. However, it seems to be impossible to find the name of the company that makes these! I had to get one for myself just to try out, as its size is truly massive for a toy. It comes "batteries included" with a charger and seems like a pretty good deal on face value. Once you get it in your hands, though, you immediately realize just how cheaply it's made. The turret wobbles quite a bit and the whole tank is surprisingly light in weight for its size. You have to attach the second half of the main gun barrel yourself as the huge box isn't long enough to accomodate it. They also give you a machine gun and a pretty awful-looking, hollow plastic gunner figure, but they don't assemble together well and don't stay in place on the tank. Finally, there are two surface-to-air missiles that you can attach to the tank with small phillips head screws. Military purists will laugh at these, but kids with imaginations will appreciate the extra detail. Speaking of detail, for something this light & inexpensive for its size, the outside does have a surprising amount of texture and realism.
Test & Review Video
Myself and a colleage spent a lot of time testing out this giant RC tank, so check out how it performed!
Conclusion
Well, this was an interesting adventure. Honestly, given the price for the size of this tank, I had fairly low expectations for its overall quality, and it met those expectations. Truly high-quality RC tanks generally don't even come this big, and at the smaller 1/16th scale size they can cost literally over $1,000 US dollars, and still don't shoot anything. For $80-85 shipped to my door, this has acceptable performance, but nothing about it is really great.