Air Hogs Zero Gravity Nano
September 2009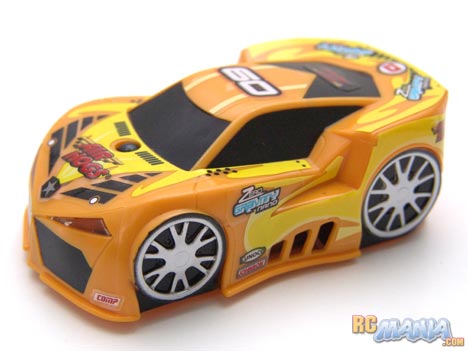 Street Price: $29.99 US
Manufacturer: Spin Master
Mfgr's recommended min. age: 8+
Our recommended age range: 8-12
Primary use: Indoor
Radio: n/a - infrared
Includes:
Vehicle
Transmitter / charger
Instructions
Requires:
6 AA batteries for the transmitter
Initial Impressions
When I reviewed the Air Hogs Zero Gravity Micro a year ago, I was really impressed by both its performance and its size. Now they've gone and made a new on that's practically half the size! It's only about three inches long. Still looks cool, but comes in more exciting colors & graphics. Still has fake wheels on the sides that are part of the body and don't turn. Still has just two skinny, strangely offset wheels underneath!
Air Hogs just never stops making things smaller, so I'm really interested to see how well this car performs and if it climbs walls & sticks to ceilings as well as the Micro.
Preparing to Drive
Oh, this is cool. The Air Hogs Zero Gravity Nano is actually so small that they were able to design a new controller that doubles as a carying case. Instead of a charging jack on a wire, this controller has a charging port that's built in, and you just plug the car directly into it. This is much easier to use and you never have to worry about lining up a plug right or figuring out whether you've got it pointed the right direction. I like it!
Testing
Okay, I'm going to pretend you haven't read the Zero Gravity Micro review and explain exactly how these cars work. It can drive on any flat, clean surface. The on/off switch actually has two "on" positions The first is for normal driving on normal surfaces. You know you're in that mode when the headlights are on, but no sound comes from the car until you start to drive. It's pretty slow like this, but that's a trade-off that had to be made to allow for the second mode.
Okay, flip the switch to the otherside and the car comes alive, sounding like a miniature vacuum cleaner -- and that's exactly what it is. Inside is a tiny motor with a blower fan that sucks air from underneath the car and blows it out the sides. This creates a suction that thin plastic plates on either side help to seal in. It's this suction that allows the car to stick to walls or even a ceiling. The box and instructions insist that you drive on only completely flat, smooth surfaces. I found that a it sticks just fine to a mildly textured wall, though it can't get over some thicker texture "obstacles." If you want to drive on the ceiling, though, that's when you need to make sure the surface is perfectly smooth. With even a slight texture, the vacuum under the car won't seal up well enough to hold up all of its weight, and it will fall. The Micro did a little better in this regard.
Video
(Click a video a second time to view it larger in a new window.)
Conclusion
All in all this tiny car is as good of a deal as the larger previous version, though it costs the same. It mostly drives the same and looks the same or better. The only place it falls short is in ceiling driving, as you'll only be able to drive upside down on a completely flat surface. I think that's reasonable considering the tiny size of this car and the basic physical realities of scale!
If you like the car and have siblings or friends that want to race, you can even get the Zero Gravity Nano in a two-pack with obstacles for creating a racing course with checkpoint targets. Pretty good deal.