Air Hogs Jet Set X-36
September 2012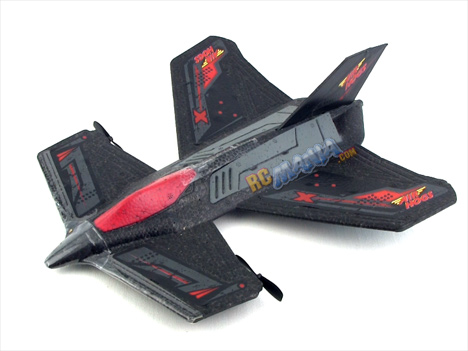 Street Price: $29.99 US
Manufacturer: Spin Master
Mfgr's recommended min. age: 8-10
Our recommended age range: 8+
Primary use: Outdoors
Top speed: n/a
Runtime per charge: 5+ mins
Controller: 27mhz AM radio
Includes:
Assembled plane
Controller/charger
2x spare propellers
Instructions
Requires:
Overview
The Air Hogs Jet Set series is a line of easy-to-operate, beginner-level radio controlled planes made of flexible, durable foam. I've flown several of these in the past, and each one has something distinctly different about its appearance or aerodynamic design. In the case of the X-36 (no relation to the Boeing X-36 stealth research plane), the unusual feature is the placement of the motors & pusher-propellers at the outermost, rear tips of two very large front winglets.
Like with all of the Jet Set planes, this one has a very basic two-channel radio that doubles as a charger. A full charge on a completely depleted plane can take around a half of an hour.
My very first flights of the X-36 were epic failures. As you'll see in the video, it didn't take long to figure out what was going so terribly wrong.
Test & Review Video
Conclusion
So, the Air Hogs Jet Set X-36 made me first interested, then completely disappointed, and finally thoroughly satisfied and even a little impressed. A little miniature roller-coaster ride! At least it ended on a positive note. In my video I said Air Hogs really should have either limited the throttle so it couldn't go so far into the "crash now" range, or at least warned us about this behavior. Thinking about it a bit more, I need to ammend my statement -- they should have done both. First off, most folks don't thoroughly read detailed instruction sheets. That's just a fact of life that needs to be accepted. Secondly, it's extremely counter-intuitive for a linear control like throttle to do one thing (climb higher) while you push it forward, and then start doing the exact opposite (crash to the ground) as you continue to push it farther in the same direction. Lucky for you, yes you, reading this sentence, you now know how to make this thing soar with ease.