Air Hogs Dive Master
September 2013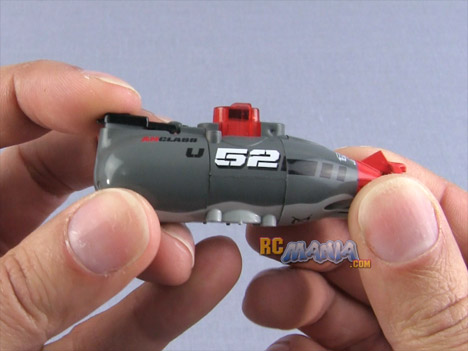 Street Price: $40 US
Manufacturer: Spin Master
Mfr's recommended min. age: 8+
Our recommended age range: 8+
Primary use: Indoors
Runtime per charge: 30+ mins
Controller: Infrared
Includes:
Submarine
Controller
Instructions
Requires:
Initial Impressions
The Air Hogs Dive Master is an infrared remote-controlled submarine that claims to be full-functioned, including the ability to dive & surface, and it is less than 3 inches long. "Sure," I said cynically. The chances of so much functionality working properly with such a tiny RC struck me as close to nil. This little sub has the tiniest propeller on the back, but all of the components for turning and controlling dives are completely hidden internally, along with a non-removable rechargeable battery that gets its juice from a jack on the controller. The whole thing looks very nice for a mere toy, but let's see if it actually works at all...
Test & Review Video
Conclusion
Well, then! My expectations were completely off-base with reality on this one! Even if the Dive Master was four times its size, it would be impressive in how well it works compared to every toy-grade submarine I've seen before it. To get so much realistic, true variable bouyancy action into such a small package with no gimmicks is simply masterful! The only thing keeping this from getting an A+ rating from me is a the quirk of physics that give it trouble in executing the start of a dive on its own. Otherwise, with its great maneuverability and unbelievably long play time per charge, the Air Hogs Dive Master does the RC world proud.
PS: This review was not sponsored or endorsed in any way by the manufacturer. I purchased this product at retail, as a regular consumer, at my own discression.