Air Hogs ATV Thrusters
January 2011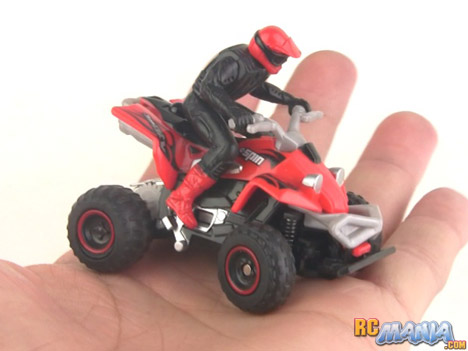 Street Price: $19.98 US
Manufacturer: Spinmaster
Mfgr's recommended min. age: 8
Our recommended age range: 6 to adult
Primary use: Indoor
Top speed: n/a
Radio: n/a - infrared
Includes:
Assembled vehicle
Controller / charger
Instructions
Requires:
3x AAA batteries for the controller
Initial Impressions
The folks at Spinmaster pulled off something awesome with their micro-scale big-tire Air Hogs Thunder Trucks monsters, and now they've repurposed that same basic chassis to create the ATV Thrusters line of racing quads. Each one is only 2 1/2" long and features a bright paint scheme, detailed rider with a few poseable joints, and real rubber tires. They have working suspension front and rear, and the springs used feel actually soft enough to do their job, unlike the ridiculously stiff pieces used on so many other RCs these days. The controller is just slightly larger than the ATV itself, and doubles as a charger, taking about 5 minutes to fully replenish the nickle metal hydride (NiMH) battery in the quad. Design-wise, it seems like this vehicle has a lot going for it. Let's see how it stands up in actual testing.
Testing
The Air Hogs ATV Thruster felt like it had an appropriate scale speed for its size, until I hit the turbo button on the controller and it really took off. In turbo mode it's a regular rocket and a fun challenge to control on a hard surface in a small room. For the best results, you can use the turbo speed to blast down straightaways, then slow to normal speed for better control around obstacles and when turning. Like the Thunder Trucks and the earlier Terrain Titans buggies, this vehicle is small enough to even have fun driving around on just a desk or table, and you can get really creative making obstacles and ramps out of everyday household objects & materials.
Oftentimes even much larger RCs have trouble going over ground that's not hard & smooth, so it was a relief when I was able to take the ATV Thruster over several different types of carpeting without getting stuck. It goes noticeably slower the rougher the surface is, but for such a cheap and tiny RC to be able to traverse terrain that's pretty rough for its size puts it a cut above the norm. Even on carpet you can still use the turbo button, for not only extra speed, but extra terrain-negotiating torque too keep it from getting bogged down.
The best thing about my experience with the ATV Thrusters was the uptime. By that I mean, time spent playing versus time spent waiting for batteries to charge. A 5-minute charge gave me well over 10 minutes of driving time even when constantly using turbo, spending half the time on carpet, and never stopping for more than a few seconds.
Video
(Click a video a second time to view it larger in a new window.)
Conclusion
The Air Hogs ATV Thrusters are great fun to run and an excellent value. They're cheap and use just 3 cheap AAA batteries in total, and you spend way more time driving than charging. The big tires, working suspension, and remotely-selected dual speeds let you enjoy the vehicle in a wide variety of situations. I'm very happy to have bought this thing!