1/16th scale RC racing truck
July 2011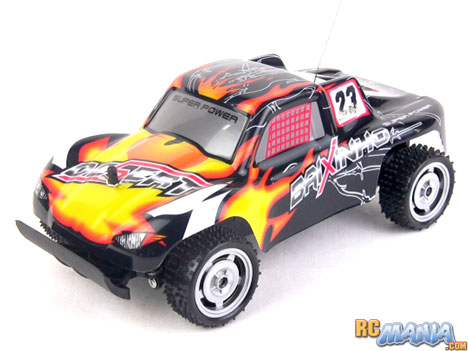 Street Price: $19.99 US
Manufacturer: Unknown
Mfr's recommended min. age: 8
Our recommended age range: 6-10
Primary use: Indoor or outdoors
Top speed: n/a
Radio: 49mhz
Includes:
Assembled vehicle
Controller
Rechargable battery
Battery charger
2x AA batteries for the controller
Requires:
Initial Impressions
For a background on how I came upon this truck and decided to try it out, read the first couple paragraphs of my review on the buggy version. This is the same vehicle underneath, it just has a full-sized racing truck body on it and no wing. Like the buggy, this one comes in a package that gives no clues as to what company makes it, and it includes no instructions. What it does include in the $20 price is a rechargable battery pack for the truck, a charger, and two AA's for the controller, so it's literally everything you need to run. You just need to charge the main battery for about 4 hours, plug everything in, and drive.
Testing
In spite of the suspiciously generic packaging, this truck performs as well as vehicles from the big name brands, if not better. Its speed is very good for its size and it gets up to that speed quickly. It's equally at home inside or out, though because of its speed it does like to have plenty of space to stretch its legs out. Styled as an off-road racing truck, it thankfully does successfully tackle off-road terrain, as you'll see in the video below. The spring suspension is a little stiff, so it bounces around a lot over small bumps and rocks, and that slows it down a bit, but it doesn't get stuck easily on dirt or even loose gravel.
Video
(You can click the video a second time to watch it on YouTube.)
Conclusion
This is a cool truck that performs well and offers a really good value with the full "ready to run" bundle of equipment. I would expect to see a product like this sold at a big store like Toys R Us or Target, but it's not at any place like that. As a lesser-known (and in fact unknown) brand, you'll find it at smaller-name stores. If you're looking for it online, here's a direct link to it on Amazon.com:
P.S.: No, I don't get paid if you click that link!